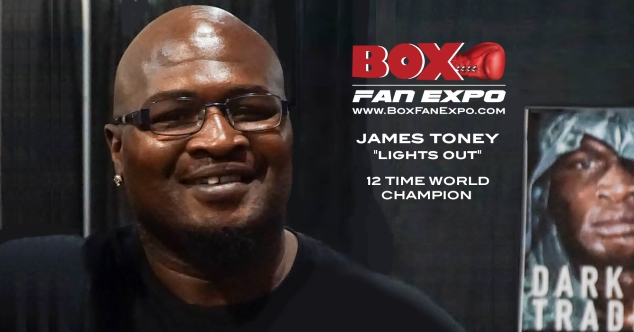 'Box Fan Expo' es el evento definitivo para los fanáticos del boxeo, que les permite conocer y compartir con grandes peleadores del boxeo de hoy, campeones del mundo actuales y del pasado, celebridades del boxeo en un entorno personal.Los boletos ya están a la venta en EventBrite
El 12 veces campeón del mundo James Toney, confirmó que se presentará y celebrará un 'Meet & Greet' con sus fanáticos en 'Las Vegas Convention Center' para la quinta edición anual de 'Box Fan Expo' el sábado, 4 de mayo de 2019 de 10:00am a 5:00pm, durante el fin de semana de 'Cinco De Mayo'.
La expo del boxeo también coincidirá con la pelea tan esperada entre 'Canelo' Álvarez y Danny Jacobs, que tendrá lugar más tarde esa noche en el estadio T-Mobile. Toney hará su cuarta aparición en la Expo de este año, en el 'stand' de Hannibal Boxing Media, donde firmará guantes, fotos, artículos personales y copias del libro de Dark Trade, donde aparece en la portada.
Los fanáticos también tendrán la oportunidad de tomarse fotos con esta leyenda del boxeo también conocida como Lights Out.Sobre James Toney Toney es un ex campeón del mundo del peso mediano, peso súper mediano y crucero de la Federación Internacional de Boxeo.
Ha sido considerado como uno de los mejores boxeadores defensivos de su era y estuvo invicto en sus primeros 46 combates. Toney ha peleado a nivel de élite durante más de tres décadas y es un primer miembro seguro del Salón de la Fama.
Toney tiene victorias notables sobre Michael Nunn, Reggie Johnson, Mike McCallum, Iran Barkley, Vassily Jirov y Evander Holyfield. Con más de 90 peleas profesionales en su carrera, ni una sola vez ha sido noqueado y ningún árbitro ha tenido que salvarlo o detener una pelea mientras compite.
Toney también fue galardonado por la Revista The Ring y la Asociación de Escritores de Boxeo de Estados Unidos como 'Boxeador del Año 1991' y 'Boxeador Regreso del Año 2003'.
Sobre Hannibal Boxing Media
Hannibal Boxing Media produce los mejores libros de boxeo disponibles y es una fuente de rápido crecimiento para el periodismo de boxeo de primera clase. El sello editorial de Hannibal Boxing es Hamilcar Publications.
Los lanzamientos de libros recientes y próximos incluyen 'Off The Ropes: The Ron Lyle Story', 'Dark Trade: Lost in Boxing' y 'Jacobs Beach: The Mob, The Garden y The Golden Age of Boxing' En la 'Box Fan Expo' de este año, James Toney firmará copias de esta nueva primera edición de Dark Trade en los Estados Unidos donde aparece en la portada. También en la expo de boxeo, el locutor del Salón de la Fama Al Bernstein firmará copias de 'Off The Ropes', donde aportó un prólogo con conmovedor tributo a Ron Lyle.
Obtenga más información sobre Hannibal Boxing y Hamilcar Publications en www.hannibalboxing.com.
Sobre Box Fan Expo
'Box Fan Expo' ha sido un gran éxito entre los fanáticos y la gente de la industria del boxeo. Muchas estrellas del boxeo han asistido a las tres últimas exposiciones como Floyd Mayweather, Mike Tyson, Roberto Durán, Tommy Hearns, Marco Antonio Barrera, Roy Jones Jr., Andre Ward, Mikey García, Marcos Maidana, Juan Manuel Márquez, Érik Morales, Errol Spence Jr., Sergio Martinez, Keith Thurman, Danny Garcia, Tim Bradley, Deontay Wilder, Amir Khan, Shawn Porter, Fernando Vargas, Zab Judah, James Toney, Jessie Vargas, Vinny Pazienza, Mia St.John, Leo Santa Cruz, Badou Jack, Terry Norris , Riddick Bowe , Earnie Shavers, Leon Spinks, Danny Jacobs, Abner Mares, Jorge Linares, Brandon Rios and many more…
Los expositores que promuevan equipos de boxeo, indumentaria, equipos nuevos, bebidas energéticas, alcohol, productos de suplementos, medios de radiodifusión, organismos mundiales y otras compañías que deseen participar, tendrán una vez más, la oportunidad de mostrar su marca a los fanáticos, los medios y la industria del boxeo.
Los boletos para la 'Box Fan Expo' están disponibles en:
https://boxfanexpo.eventbrite.com 'Box Fan Expo' es el mejor evento para los fanáticos del boxeo, ya que les permite conocer y saludar a las superestrellas del boxeo de hoy, campeones del mundo actuales y del pasado, leyendas del deporte y otras celebridades del boxeo en sus respectivos espacios. Los fanáticos experimentarán diferentes actividades como sesiones de autógrafos, sesiones de fotos, FaceOff con tus boxeadores favoritos, fotos con las 'Ring Girls', DJ en vivo, la oportunidad de ganar premios, comprar mercancía y memorabilia en diferentes cabinas "TODOS BAJO UNA MISMA AZOTEA".
No querrás perderte este evento: asiste al Expo! Durante estos meses previo al evento, habrá actualizaciones sobre las muchas estrellas que comprometerán su aparición en la Expo de boxeo y para cualquier persona en la industria del boxeo u otros expositores (no industriales), a quienes les gustaría participar y reservar un espacio,
Contacte a 'Box Fan Expo':
Número de teléfono: (514) 572-7222 o número de Las Vegas (702) 997-1927
Para cualquier consulta, envíe un correo electrónico a boxfanexpo@gmail.com
Más información sobre 'Box Fan Expo' está disponible en: http://www.boxfanexpo.com
Sigue a 'Box Fan Expo' por Twitter e Instagram en: @BoxFanExpo
Sigue a 'Box Fan Expo' por Facebook en: https://www.facebook.com/BoxFanExpo
Please follow and like us: