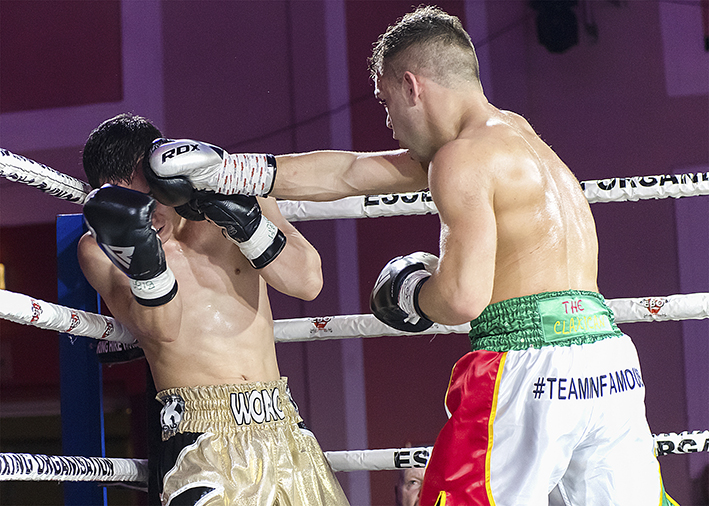 Back in November Ben 'The Claxican' Cook made his professional debut in his home town of Clacton-on-Sea against fellow debuting Chris Wong from Belfast.
What a cracking fight, the first couple of rounds were so closely fought that it wasn't easy to call the winner of each round, however in the 3rd the decision was made a little easier after Cook landed a cracking body-shot late in the round to send the Irishman to his knees.
After four highly entertaining all action rounds Referee Lee Murtagh's scorecard read 40-37 in favour of local hero Ben Cook.
On Saturday night, at the Charter Hall in Colchester, Cook has a seriously tough assignment, as will be facing Ghana's Michael Barnor, who has fought for numerous Championship accolades during his career.
Speaking earlier The Claxican said "My first fight had a massive build up and I have to admit I was a little nervous.
"initially I was cautious, well it was the first time I'd be getting hit with 8oz pro gloves, but as the fight progressed I got more comfortable getting hit with them and after taking a few of Wongs shots I soon settled and was able to let my hands go more. 
"Chris is a warrior, very tough and constantly wanted to go toe to toe with me,
"It was a fantastic fight and even more so as I won on my debut."
Cook then went on to speak a little about his opponent this coming Saturday, "I know now I have a massive test coming up with Barnor he's been in with some top fighters and has fought for various titles, so know he is going to be a great test for me.
"He has loads of experience, but I feel i do have the skills and speed to outbox and outclass him.
"If I'm the stronger fitter man than Barnor, as I suspect I am, I'm ready to stand toe to toe with him too if that's what it takes.
"This is a massive step up in class, but I know but I'm ready, I thrive under pressure and I have the best coaches and people around me that I'm thankful for preparing me for this"
Ben Cook versus Michael Barnor features on the Tommy Jacobs promoted A NEW DAWN at the Charter Hall, Colchester Leisure World, Cowdray Ave, Colchester CO1 1YH on Saturday 9th March 2019.
Also featured on the event are Dean Porter, against Michael Kelly, Rob Elden versus David Calveley, Navid Iran takes on Kyle McNicholas and Tommy Jacobs goes up a couple of divisions to go toe-to-toe with unbeaten Liverpudlian Scott McIntyre.
Tickets: there are limited tickets still available, these can be purchased direct from any boxer taking part or call EBO ticket Line on 07475 096532 or buy on-line at www.tkoboxoffice.com
Please follow and like us: