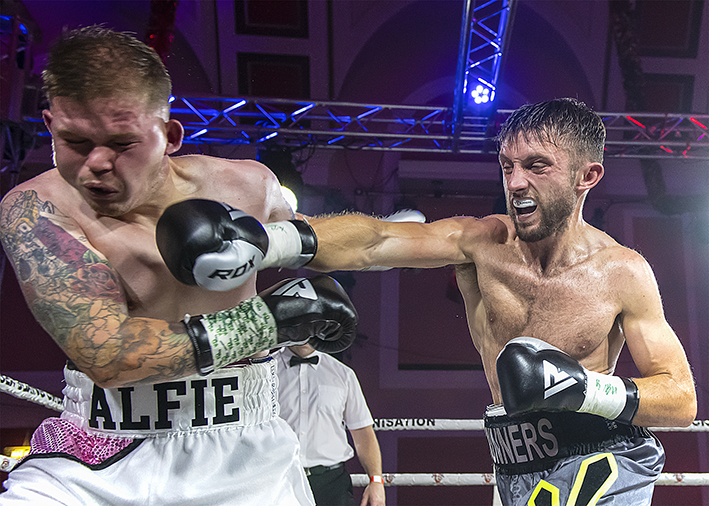 On Saturday night, at the Charter Hall in Colchester, local lad Dean Porter steps into the ring for his second professional contest, against the highly experienced Irishman Michael Kelly.
Porter, who made his professional debut against unbeaten Liverpudlian Steven Sunners back in November, is clearly intent on testing his ability to the max by seeking only genuinely competitive fights, an admirable trait indeed.
Looking back at Porter's battle with Sunners, it was a closely fought affair, unfortunately though Porter lost, albeit by a very close margin, Referee Lee Murtagh's scorecard reading 39-38 in favour of Sunners.
On Saturday night, a reinvigorated Porter will step through the ropes and face Kelly with a higher degree of confidence, as the Colchester man made clear when he spoke earlier.
"Where do I start…? Well I've been boxing years, boxed at a high level as an amateur.
"In the amateurs I fought the likes of Jordan Gill (now WBA International & Commonwealth Featherweight Champion). Beat Tommy Martin who became the youngest ever BBBoC English Champion as well the WBA Super Lightweight Continental Champion, before I had some time off from the sport.
"Then I was toying with the idea of coming back early last year and began getting myself ready for my pro debut under great trainer Russ Smith but things went wrong.
"I suffered an injury just before the fight and then one thing lead to another and I was back out of shape.
"I feel I had let Russ and the team down and was embarrassed and ready to pack it in, then I spoke to Tommy Jacobs and he offered me another lifeline under his management which I took.
"In hindsight I took things too lightly and on my debut I was overweight, unfit and ultimately lost because of it.
"This time round I've taken my preparations a lot more serious, I'm down in weight – but still got a way to go – and training has gone so much better.
"Ultimately I need to get this win Saturday to show everyone that I'm taking this seriously and not just here for the fun of it.
"I will be down at lightweight eventually this year, but for now my focus is just getting past my more experienced opponent on Saturday.
"I got the first taste of victory on the scales today, getting down to light welter, the win on Saturday will be the next!"
Dean Porter versus Michael Kelly features on the Tommy Jacobs promoted A NEW DAWN at the Charter Hall, Colchester Leisure World, Cowdray Ave, Colchester CO1 1YH on Saturday 9th March 2019.
Also featured on the event are Navid Iran, against Kyle McNicholas, Rob Elden versus David Taylor, Ben Cook takes on Michael Barnor and Tommy Jacobs steps up a couple of divisions to go toe-to-toe with unbeaten Liverpudlian Scott McIntyre at Super Middleweight.
Tickets: there are limited tickets still available, these can be purchased direct from any boxer taking part or call EBO ticket Line on 07475 096532 or buy on-line at www.tkoboxoffice.com
Please follow and like us: