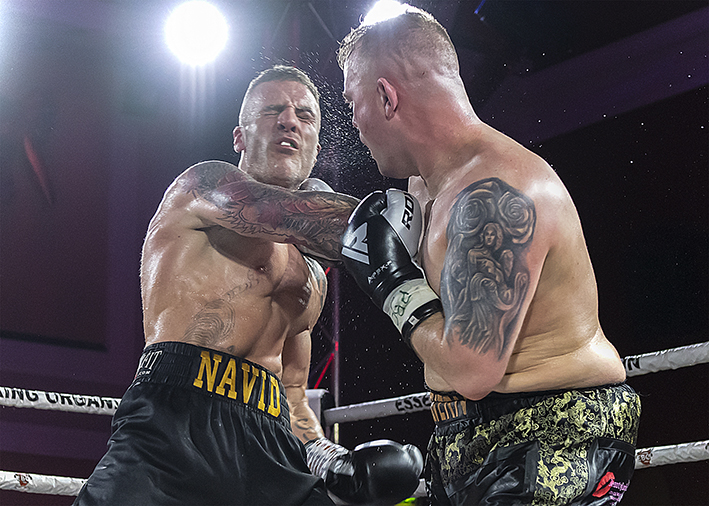 Exciting Light Heavyweight prospect Navid Iran is back in action at the Charter Hall in Colchester, where he'll go toe-to-toe with Liverpool's Kyle McNicholas, on Saturday night.
Back in November last year Iran and Scotland's Ben McGivern battled it out for the vacant Professional Boxing Council (PBC) Silver International Light Heavyweight title.
Battled it out is the correct term; this was a Battle Royale of epic proportions.
Right from the off Iran took the fight to McGivern, backing the Scot onto the ropes and letting rip with a flurry of big left and rights. McGivern sensibly covered up and waited an opportunity to counter, which he did with good effect once the opportunity arose.
However it wasn't enough to prevent Iran coming back with a similar forceful attack almost immediately. McGivern once again managed to counter and initially take control.
As the round progressed Iran landed a couple of cracking shots that again forced McGivern to cover up. Iran kept up the pressure with big shots, whilst McGivern caught most with his gloves a big right got through the Scots guard, shaking him to the core.
How McGivern made it to the end of the round, I just don't know, his legs were well and truly gone, but somehow he did.
Round two see Iran come out hard and fast, however McGivern was ready for the assault, again initially covering up but this time instead of just countering and covering, he spun his opponent and went hard on the attack himself.
Round three see McGivern taking the fight to Iran, which led to some great technical boxing ensuing from both protagonists.
The next few rounds were fought in similar vein. The final round though was an out and out war; both boxers throwing caution to the wind and an all out slugfest ensued for the entire final three minutes – what an exhilarating round.
After eight fantastic rounds of boxing it was Ben McGivern declared victor by scoring referee Lee Murtagh, by a deceptive 79-74 points margin.
Whilst without doubt the correct result, the result just doesn't convey just how close each and every round, but the first, was. These two really put on a magnificent show and the Battle Royale was a serious contender for the Fight of the Night award.
Whilst obviously disappointed with the loss, Iran seemed very upbeat, not just about the upcoming fight but also the fight back in November, when he spoke earlier
"Going in to my last fight, which was for the Professional Boxing Council (PBC) international light heavyweight title, I felt fit and strong.
"I knew I was up against a very tough opponent with a solid record and it was my first 8 round fight.
"Stepping back in the professional ring after a period time away was exciting and to fight for a title just topped it off.
"The fight it self was very, very close but unfortunately it wasn't my night.
"A win on Saturday night will put me back in the title mix and a rematch against Ben McGivern for an even more prestigious title in June.
"All I can say now is I'm ready for a war, bring on fight night!"
Navid Iran versus Kyle McNicholas features on the Tommy Jacobs promoted A NEW DAWN at the Charter Hall, Colchester Leisure World, Cowdray Ave, Colchester CO1 1YH on Saturday 9th March 2019.
Also featured on the event are Dean Porter, against Michael Kelly, Rob Elden versus David Taylor, Ben Cook takes on Michael Barnor and Tommy Jacobs goes up a couple of divisions to go toe-to-toe with unbeaten Liverpudlian Scott McIntyre.
Tickets: there are limited tickets still available, these can be purchased direct from any boxer taking part or call EBO ticket Line on 07475 096532 or buy on-line at www.tkoboxoffice.com
Please follow and like us: