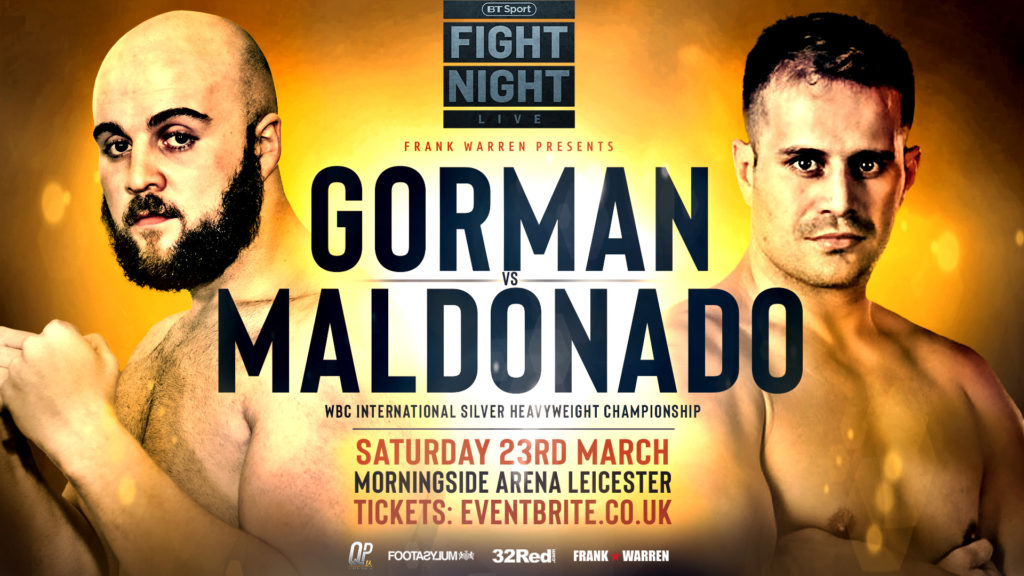 NATHAN GORMAN IS wary of switching off on March 23rd when he takes on former UFC star and now 26-1 heavyweight Fabio Maldonado at the Morningside Arena in Leicester, live on BT Sport.

Facing the heavy handed Brazilian will mark the 16th fight of Gorman's professional career, during which time he has become holder of the WBC International Silver title and become regarded as one of the most promising prospects in world heavyweight boxing.

Promoter Frank Warren has made it clear that the 22-year-old is on a collision course with fellow young heavyweight Daniel Dubois, with the fight projected to take place before the end of the year.

Both must remain in winning ways and the pupil of Ricky Hatton first has to overcome the toughest test of his career to date.

The 38-year-old Maldonado has recorded 25 KOs in his 26 wins since turning professional in 2002 while, at the time, combining a career in boxing with participation in MMA combat.

His MMA journey began in 2000 in his native Brazil before he was signed to the Ultimate Fighting Championship where he featured on 11 occasions out of his 38 fights in the Octagon.

The boxing career of Maldonado has been frequently punctuated by explosive KOs and 20 of his stoppages have come in the first or second round.

The only blemish on his record came in December of last year when he was defeated on points by the unbeaten Colombian Oscar Rivas, who went on to defeat Bryant Jennings in his next fight and is now regarded as a threat to the elite of the heavyweight division.

"What I know of him is that he is a Brazilian with a good record and has only lost once on points to Rivas," reacted Gorman to his forthcoming challenge.

"Rivas is now a world contender and Maldonado also has a lot of knockouts on his record, so he is a fella who can punch a bit and, obviously, it is heavyweight boxing and you cannot switch off for a second.

"If you do that against someone with the knockout potential Maldonado has got, it could be the end of the fight.

"Ricky has had a look at him and we believe it is the right fight for my progression. That is why we have taken it. People thought I might start the year with a tickover fight, but do you really want them now I am 15 fights in? You are not going to get warm-up fights if you want to keep progressing.

"It will be good to start the year with a scalp like Maldonado, but he will be very tough and I have got to train for him like he is my world title fight. At the end of the day, if I don't beat him then it is back to the drawing board."

Nathan Gorman v Fabio Maldonado takes place at Leicester's Morningside Arena on a card that also includes the British super featherweight title clash between Sam Bowen and Jordan McCorry. Local fighters CJ Challenger and Kyle Haywood fight for the vacant Midlands Area super welterweight title, with Sam Maxwell bidding to win the WBO European super lightweight title against the Spaniard Kelvin Dotel. Top prospects Lyon Woodstock, Ryan Garner, Willy Hutchinson, Tommy Fury, Ryan Hatton and Mark Chamberlain also feature on the bill.

Tickets from £40 can be purchased here.
Please follow and like us: