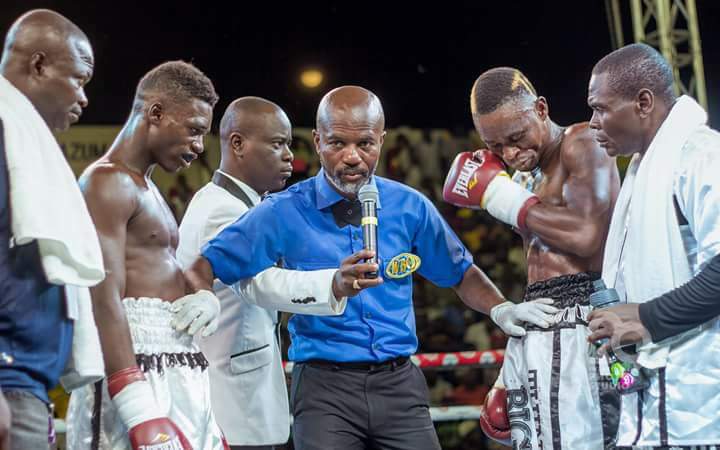 International Boxing Federation (IBF) President Daryl J. Peoples has appointed celebrated Ghanaian Referee Roger Barnor as the third man in the ring for the upcoming John Koudeha versus Victus Kemavor, IBF Continental Africa Middleweight title
Koudecha, who hails from Togo and Kamavo from Ghana are set to go toe-to-toe on Oscar Akaba's Aborigines Promotions event on the 19th April 2019 in Keta Volta, Ghana.
The IBF Regional President for Africa, Middle East & Persian Gulf, Mr Onesmo Ngowi from Tanzania, will head up the highly experienced team of IBF officials appointed for the anticipated Battle Royale between two of the most fiercest warriors in West Africa's region.
In addition to Mr Barnor, the appointed judges are Shadrack Aquaye, Confidence Hiagbe and Clement Ashong all from Ghana.
On learning of his appointment, Mr Barnor said "It is always an honour to officiate an IBF Championship, even more so here in Ghana."
Mr Barnor then went on to elaborate "I am looking forward to officiating another IBF title fight so soon after my last assignment, when I was one of the judges when Emmanuel Tagoe beat Vyacheslav Gusev, for the IBF International Lightweight title, in February this year.
"My previous refereeing assignment for the IBF was when Walter Kautondokwa beat Obaodai Sai by a fifth round TKO back in June 2017, which was also for the Continental Africa Middleweight Title.
"This contest proves to be yet another milestone for the New Jersey, USA based IBF as they strive to become the #1 Championship within the Continent of Africa."
Mr Barnor concluded by saying "Straight after this prestigious assignment I will be heading to the United Kingdom where I will be officiating two championship contests, the Tommy Jacobs versus Ishmael Tetteh Professional Boxing Council International Super Middleweight Title fight on the final day of the Association of Professional Boxing Commissions Annual Convention, then I will be traveling to Lincoln on the 27th April to officiate at the Nathan Decastro versus Daniel Adjei Sowah World Boxing Union Super Middleweight World Title fight."
Please follow and like us: