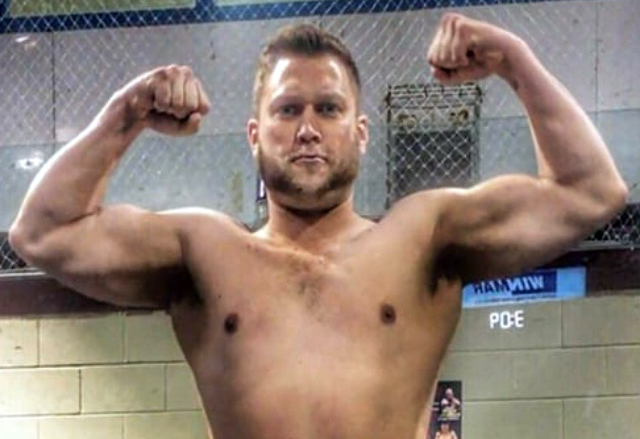 Seventeen and a half stone New Brunswick lumberjack Chris Norrad expects to be hollering 'Timber' over the crestfallen 6ft 6in frame of ex British champion Hughie 'Fists of' Fury when the juggernauts collide in what promises to be a high grade 12 round heavyweight showdown at Manchester's Victoria Warehouse on Saturday 25th May, exclusively live on Channel 5.
The 35 year old former woodsman from the forestry community of Boiestown has already toppled 17 successive oaks of the cruiser and heavyweight divisions, with eight felled before the finish.  Now, in his first start outside Canada, the 6ft 3in 'Boiestown Banger' aka 'The Natural', has come to chop down local World Youth gold medallist and world ranked heavyweight contender Fury in his home yard.

'I was a late starter, never really boxed amateur or 'Tough Man' contests,' disclosed self-managed Norrad who trains at the Fredericton Boxing Club under the guise of the Storey brothers Dean and Dwayne.

'But as a young man, I'd be fighting at the local dances and got myself into a stack of trouble with the law so figured I'd best start fighting legally. I wasn't really bad tempered, I just got a little excitable. I kinda enjoyed fighting and I must've been fairly useful. I never lost any.'I was quite interested in boxing long before I became actively involved. I'd studied tapes of how guys like Muhammad Ali and Larry Holmes would win with jabs and incorporated that into my street scuffling. It was pretty easy when the other fella's just launching haymakers.  

'Around 2009, when I was working in the woods one day, Dean Storey came over and told me that his brother Dwayne was promoting 'The Next Great Heavyweight' tournament. Dean said he'd heard how useful I was with my hands and offered to train me.  It started there.' 

Crafty Chris, then 25, cantered to the crown then repeated the trick in a similar tourney for cruisers in 2010. However, his progression has subsequently been curtailed by lack of opportunity and he has started just seven times in the last seven years. 

He explains: I suffered from several hand injuries over the years and broke the right hand very badly whilst winning a fight by stoppage in May of last year. At other times, I've been busy with work commitments. I recently started up in transportation.'  

In addition to that brace of 'Next Great….' titles, he reigned on the NABA Canadian cruiserweight throne following a 10 round points win over Ontario's Frank White back in 2012.

'Working in the woods for 10 years built up strength and I possess a pretty powerful right hand,' warns Norrad who has iced four foes inside the opening two rounds.'But I like to think my way through a fight.  I'm smart and usually out jab the opposition. If you get the jab going it'll win the fight for you. 'There's been a lot of talk recently of me challenging for the Canadian heavyweight title but I'm sure Team Fury will be screaming for a big money rematch, once I've defeated Hughie!' 
Promoted by Hennessy Sports, Channel 5 and Infinitum, in association with VIP Promotions, Hughie Fury headlines an action packed show on Saturday 25th May at the Victoria Warehouse, Manchester, when he takes on undefeated Canadian Chris Norrad. Exciting super-featherweight Alex Dilmaghani faces the hardened Martin Parlagi. Female super-middleweight sensation Savannah Marshall returns to action. Steve Brogan defends his Central Area Lightweight Championship against rival Adam Hague and completing the card will be Matty Fagan, Connor Lynch and Marcel Braithwaite.
Please follow and like us: