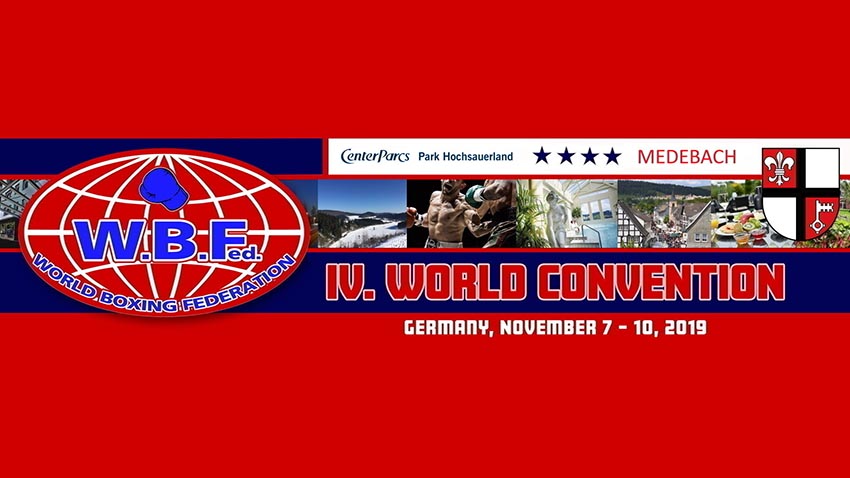 While the first official day of the 2019 World Boxing Federation (WBF) World Convention, Thursday November 7, didn't offer many activities, things are now firmly in progress in beautiful Medebach, Germany.
The convention was originally scheduled to take place in Oberhausen, but less than two months ago unforeseen circumstances forced a venue-change.
Several delegates already arrived during Wednesday, where a few meetings allowed, among others, WBF President Howard Goldberg and Vice President Torben Seemann Hansen to catch up face-to-face.
Thursday saw the remaining majority of attendees, including several present and former WBF Champions, check in at the lovely four-star Center Parcs Park Hochsauerland Hotel, get registered and receive their itinerary for the next days.
With boxing-people from far away places such as Kuwait, D.R. Congo, South Africa, Iran, South Korea, Zimbabwe, USA, including Olympic Gold medallist Henry Tillmann, and of course most European countries, the convention will be a true melting pot of nationalities.
"Its great to finally be off and running with this convention", President Goldberg expressed from the hotel lobby after completing dinner in the hotel restaurant.
"Its been more challenging than we expected, with the venue-change and everything, but its certainly been worth it, being here now with all these great people who travelled so far to come."
"The WBF Conventions were something that our dear, late Executive Director Olaf Schroeder had a big passion for, so when he suddenly passed away in April it shook things up quite a bit for everyone."
"So naturally this year will also be a tribute to Olaf´s memory, and there was no way that we were going to cancel even though it would have been the easiest thing to do."
The day finished with people socializing in the bar, the spa or competing in some of the various sport-activities the hotel has on offer.
Friday will be a busy day, including the convention opening ceremony, officials seminar, and gala dinner with the 2019 WBF Awards Ceremony.
Please follow and like us: