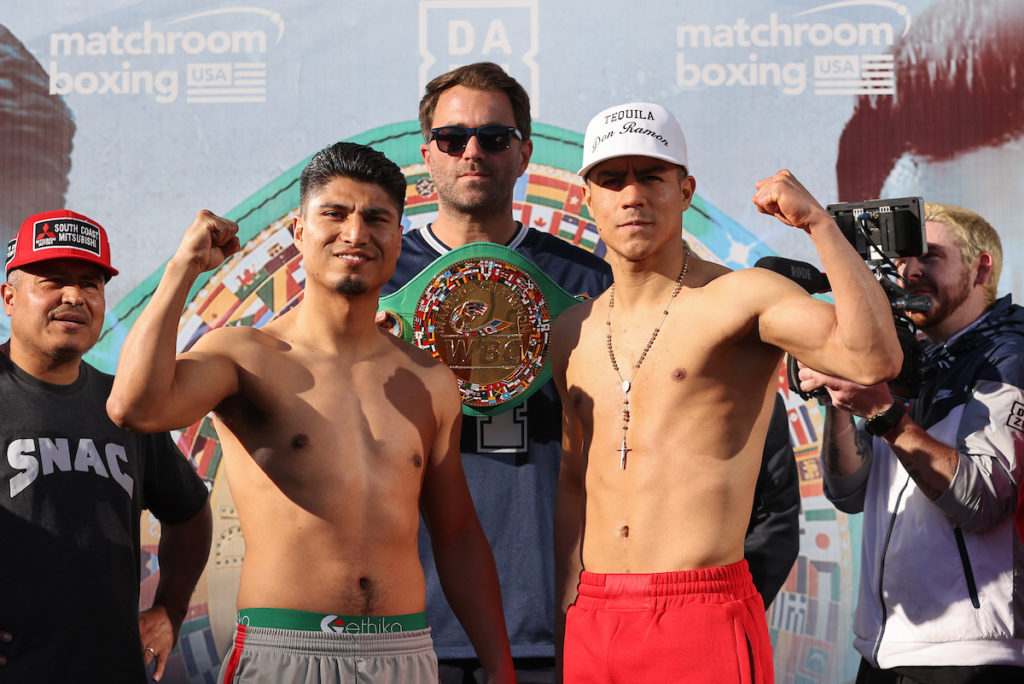 TICKETS ARE ON SALE NOW STARTING AT $25 VIA SEATGEEK

Doors open at 3.30pm (local)

First bell: 3.30pm

10 x 3 mins Flyweight contest

Jesse Rodriguez (111lbs) vs Marcos Sustaita (110.8lbs)
San Antonio California

Followed by

6 x 3 mins Junior-Middleweight contest

Leo Acevedo (153lbs) vs Dennis Knifechief (154.8lbs)
California Oklahoma

From 5pm

6 x 3 mins Super-Middleweight contest

Alexis Espino (165lbs) vs Delvecchio Savage (163.6lbs)
Las Vegas Texas

Followed by

6 x 3 mins Super-Middleweight contest

Diego Pacheco (167.4lbs) vs Oscar Riojas (167.4lbs)
Los Angeles Panama

Followed by

10 x 3 mins eliminator for WBA World Junior-Middleweight title

Israil Madrimov (153.2lbs) vs Charlie Navarro (153.2lbs)
Uzbekistan Panama

From 7pm

10 x 3 mins Heavyweight contest

Joseph Parker (245.4lbs) vs Shawndell Winters (208lbs)
New Zealand Illinois

Followed by

12 x 3 mins WBC World Flyweight title

Julio Cesar Martinez (111.4lbs) vs Jay Harris (111.6lbs)
Mexico Wales

Followed by

12 x 3 mins WBA World Super-Flyweight title

Kal Yafai (114.8lbs) vs Roman Gonzalez (114.6lbs)
England Nicaragua

Followed by

12 x 3 mins WBC Diamond Welterweight title

Mikey Garcia (145.8lbs) vs Jessie Vargas (147lbs)
California Las Vegas

About The Star in Frisco
The Star is the 91-acre campus of the Dallas Cowboys World Headquarters and training facility in Frisco, Texas. Developed as a first-of-its-kind partnership between the City of Frisco, Frisco ISD and the Dallas Cowboys, The Star features Ford Center, a 12,000-seat stadium that hosts Frisco ISD football games, other world class sporting events such as top flight boxing matches, concerts and other events; Cowboys Fit, a 60,000 square-foot gym developed in partnership with leading fitness developer, Mark Mastrov; Cowboys Club, a members-only club where the country club meets the NFL; the Omni Frisco Hotel, a 16-floor, 300-room luxury hotel; Baylor Scott & White Sports Therapy & Research at The Star, a 300,000 square-foot center of excellence for sports medicine; Twelve, a 17-story, luxury residential tower in partnership between Pro Football Hall-of-Fame Quarterback #12 Roger Staubach, and Dallas-based developer and former Dallas Cowboys center, Robert Shaw; Formation, a dynamic coworking experience offering a collaborative work environment of open workspace, dedicated desks and private offices; as well as a variety of shopping, dining and nightlife options throughout The Star District. For more information on The Star, visit www.TheStarInFrisco.com.
Please follow and like us: