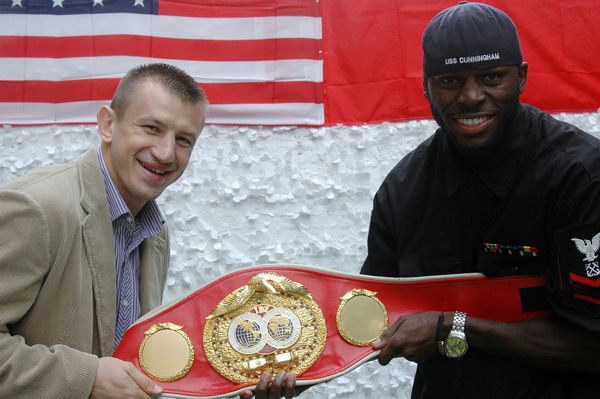 Today's Go-Boxing Classic Fight was nominated by Gianluca Di Caro, Vice President of the British & Irish Boxing Authority (BIBA), who back in 2008 was the Marketing Director for Team 'USS' Cunningham, so no surprise then that he has chosen the 2008 classic between his main man Steve 'USS' Cunningham and Tomasz 'Goral' Adamek as the first in this new series of Go-Boxing Classic Fights series.
On Thursday, December 11th 2008 a sensational boxing match took place at the Prudential Center in Newark, New Jersey, between the then reigning International Boxing Federation cruiserweight champion, Steve 'USS' Cunningham, from Philadelphia, PA. and former World Boxing Council light heavyweight champion, Tomasz 'Goral' Adamek, originally from Poland but residing in Jersey City, NJ. 
The atmosphere was electric when Steve and Tomasz entered the arena,
What followed was one of the most exciting and intriguing boxing matches I and many of those watching had ever seen, This is not just my opinion as almost every media report on the contest claimed it to either be a candidate for 'Fight Of The Year' or called for a rematch, and in many cases both.
What made this event so special isn't that this was actually a properly matched contest between the number one and two rated fighters in their weight class, but because of the two combatants commitment, and approach to this event both prior to fight night and in the ring itself.

At the press conference to announce that Steve 'USS' Cunningham was going to defend his International Boxing Federation World Cruiserweight Title against Tomasz 'Goral' Adamek it was clear to all in attendance that this was going to be a very different fight to most, not just back then, but also these days.

For a start both protagonists are deeply religious family men and as such there was no brash 'in your face' slagging matches so often seen at press conferences, each man showed total respect for his opponent.

Throughout the promotion for the event both men behaved impeccably, neither uttering a bad word about the other. Their behaviour made me wonder if this is how gentlemen duelers behaved all those centuries ago.

By fight night it seemed hard to imagine that either man would actually try and hit the other. Boy was that misleading. As soon as the bell rang for round 1 world war three broke out.

What followed was twelve rounds of pugilistic heaven, or should that be hell, as both Steve and Tomasz threw power punch after power punch.
Now don't get me wrong, this wasn't a slug fest this was pure art at the highest level…. Enjoy!
Please follow and like us: