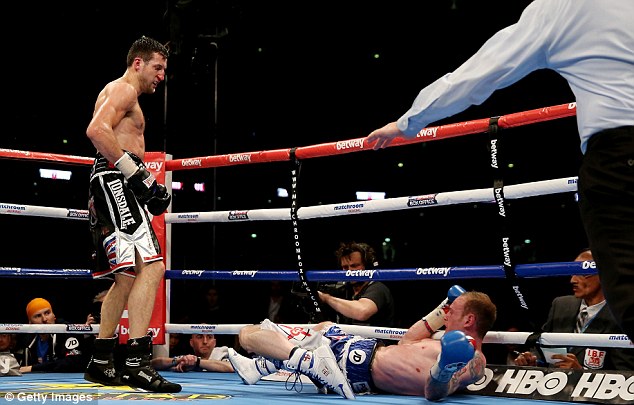 Carl Froch and George Groves first fought on 23 November 2013 at the Phones4u Arena in Manchester. As with the rematch in that fight, both of Froch's World Boxing Association (WBA) and International Boxing Federation (IBF) World titles were on the line.
Groves scored a surprise knockdown in the opening round and went on to build up a lead on all three judges' scorecards.
The fight ended in controversial circumstances in the ninth, when Froch landed a series of big shots, which prompted referee Howard Foster to stop the fight and score it a technical knockout.
The result was heavily protested by Groves and his team, as well as by fans and the media, creating immediate demand for a rematch.
The rematch, on the 31st May 2014, was the first boxing event to take place at the new Wembley Stadium.
Froch Vs Groves II attracted 80,000 spectators, which stood as a British post-War record until being surpassed by Anthony Joshua Vs. Wladimir Klitschko in 2017, which drew 90,000.
The fight was broadcast in 60 countries worldwide. In the UK, the primary broadcaster was Sky Box Office and attracted 900,000 PPV viewers.
In the USA, viewing figures on HBO averaged 700,000 with a peak of 830,000.
As with the first showdown Froch's WBA and IBF super-middleweight titles would again be on the line.
In the early rounds of the fight itself, Groves started well landing his jab consistently as well as catching Froch with a crisp combination as round two headed to its conclusion.
Froch started to work behind his jab in round three, and both boxers exchanged heavy shots.
In the fourth, Groves returned to his jab, but Froch responded at the end of the round by catching Groves on the ropes with body punches.
Round five was action-packed, exchanges of clean punches from both boxers had the fans on their feet.
In the sixth, Froch started pressing forward, and in doing so began landing more punches.
Groves responded with his own at the end of the round. He followed this up in round seven and landed a left hook that shook Froch, as did a solid right hook soon afterwards.
At the end of the seventh Froch led by 67–66 on two of the judges' scorecards, with the third judge scoring it 68–65 for Groves.
Froch come out in determined fashion in the eighth and managed to back Groves against the ropes, Froch let rip with a left hook, blocked by Groves' glove, Froch followed up with a massive pin point perfect right hook to the chin, sending Groves down hard to the canvas.
Referee Charlie Fitch immediately waved off the fight as a knockout at 2 minutes and 43 seconds and more importantly no controversy this time.
CompuBox figures show Froch threw 349 punches and landed 96 (28% accuracy) Groves threw 314 punches and landed 126 (40% accuracy)
Groves threw 218 jabs and landed 83 (38% accuracy); Froch threw 212 and landed 40 (19% accuracy).
Froch threw 137 power punches and landed 56 (41% accuracy); Groves threw 96 and landed 43 (45% accuracy).
Please follow and like us: