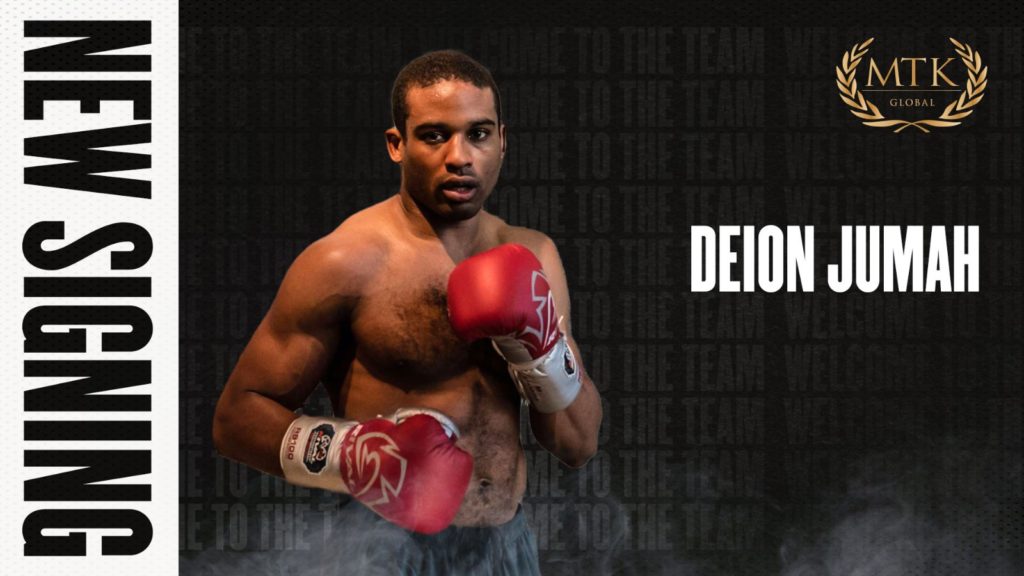 Hailing from London, Jumah (13-0, 7 KOs) is the reigning English cruiserweight champion, and the current mandatory challenger for the British cruiserweight title.
The 31-year-old was involved in a 2020 Fight of the Year contender in his last contest when he defeated Sam Hyde, while he also holds stoppage wins in title fights against Wadi Camacho and Ossie Jervier.
He will now take the next step in his career under the guidance of MTK Global, and the man known as 'The Ghost' is excited to get going.
Jumah said: "I'm delighted to be joining MTK Global. It was time to take my career to new heights and I've had some some great discussions with both Lee Eaton and Adam Hart and we are all on exactly the same wavelength.

"MTK Global has the experience and success at top level, and that's a level I'll be performing at very soon. I'm glad to be on the journey with such a strong team behind me.

"I've done the best I can with what I've had. I'm definitely proud of how far I've come, but this is just the beginning for me. I want world titles.

"The British belt is an important one for me, and it's important for any fighter. The timing of joining MTK couldn't have been more perfect. I'm levelling up in every aspect of my career.

"The cruiserweight division is certainly an exciting one. The top five fighters make for some great matchups. Matchups that I'll be a part of this year. I believe I'm the best of the lot and I can't wait to prove it.

"Over the next 12 months the aim is to win the British title, a European title and earn a solid world ranking!"
MTK Global Promoter Lee Eaton said:"We're thrilled to welcome Deion Jumah to the team. The next couple of years are going to be massive for him and we're proud to now be giving him our backing.

"We've seen the cruiserweight division go from strength to strength in recent years, and Deion is going to be a key part of that moving forward. He's the mandatory challenger for the British title, and once he wins that belt, the future will be very bright."
News on when Jumah will have his first bout as an MTK Global fighter will be announced in due course.
Stay up to date by subscribing to our weekly newsletter HERE and on social media @mtkglobal
Please follow and like us: