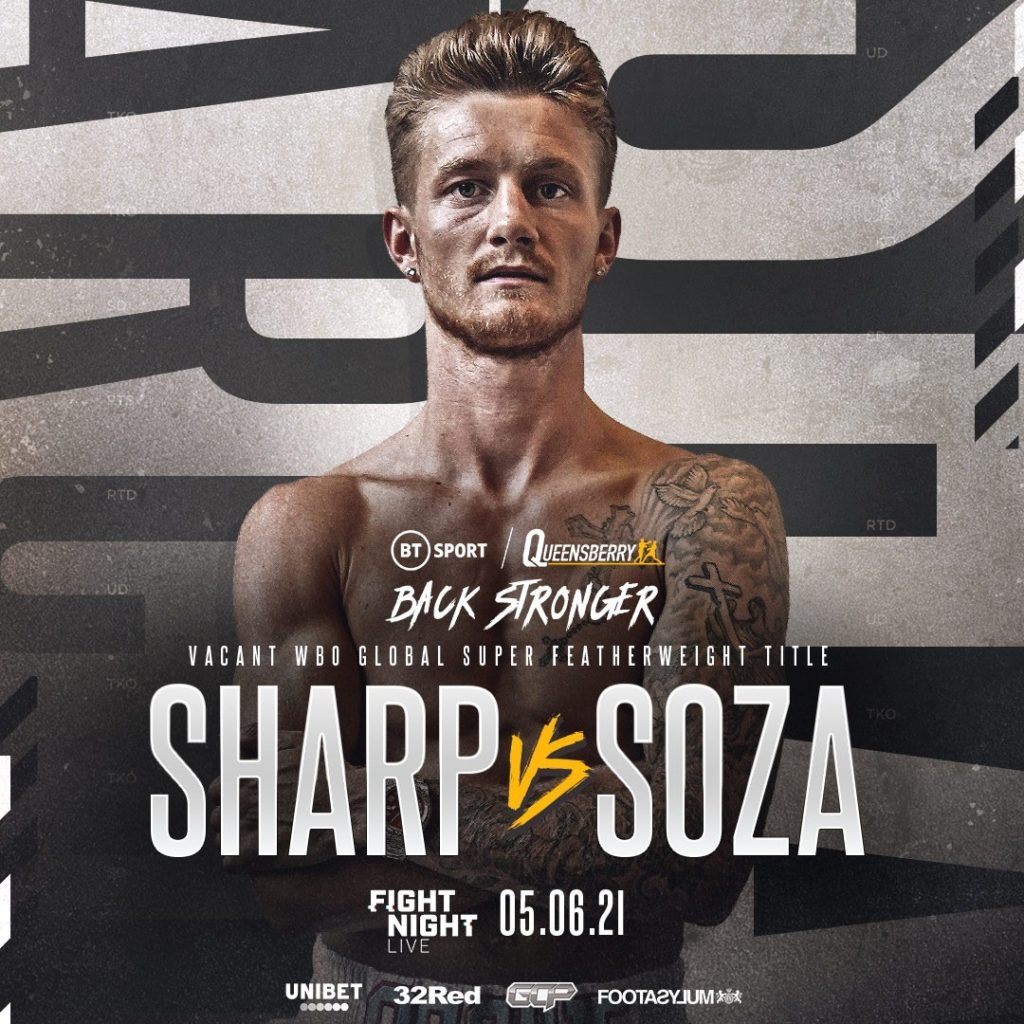 ARCHIE SHARP WILL challenge for the vacant WBO Global super featherweight championship when he returns to the ring on Saturday June 5, live on BT Sport.

The 19-0 'Sharpshooter' takes on Marcio Soza, 21-6-2 in his first fight since August of last year following his recovery from an arm injury.

The former WBO European champion, ranked at No.4 in the world by the governing body, will be entering into his first fight since switching his training base to Alan Smith's Queensberry iBox Gym in Bromley and he is up against a Nicaraguan on an 11-fight winning streak and the holder of the WBA Fedelatin title, which he won in December of 2020.

"We are under two weeks out now and I literally cannot wait – I am very excited," said the 26-year-old Sharp on his bid to win a second professional belt. "I've had a good 10-12 weeks camp after my injury and it has gone well

"I am fighting for the WBO Global title and it is what I needed really. I talk about trusting the process and I was going to be out on the Carl Frampton show before that got moved, I got injured and then this belt became vacant and I am now fighting a tough kid for a bigger title.

"It will put me in very good stead for where I want to be. Shakur Stevenson is fighting the No.2 (Jeremiah Nakathila) and I will be right there amongst it. I have defended the European belt three or four times now and I did get a little bit complacent in a couple of the fights. Having a new belt on the line is what I thrive on and I am buzzing for it.

"Marcio Soza is a tough kid and hasn't been beaten since 2016. He has mixed with the likes of Francisco Fonseca and has been at a very good level, with over 20 wins and 12 stoppages. His losses came very early in his career and he is a 30-year-old man, so it is gonna be good and I am looking forward to it.

"He is definitely a Mexican-style fighter and I have watched a couple of little clips. He will certainly want to go toe-to-toe."

Daniel Dubois (15-1, 14KOs) returns to the ring on Saturday June 5 when he takes on Bogdan Dinu (20-2, 16KOs) for the WBA Interim heavyweight title. Light heavyweight favourite Tommy Fury is also in action in his sixth fight as a professional.

WBO ranked number four featherweight, Archie Sharp (19-0, 9 KOs) returns in his first fight under new trainer Alan Smith, while Belfast Middleweight Caoimhin Agyarko (8-0, 5 KOs) will be aiming for his fifth successive inside the distance win. Stoke-on-Trent's huge popular middleweight Nathan Heaney (11-0, 3 KOs) has his second fight under the Queensberry banner when he meets Bulgarian Iliyan Markov (6-14-2, 3 KOs).

Also on the show are unbeaten English bantamweight champion Liam Davies (8-0, 3 KOs), featherweight Adan Mohamed (1-0) and 18-year-old decorated amateur George Bance, who makes his professional debut after signing with Queensberry.

Please follow and like us: