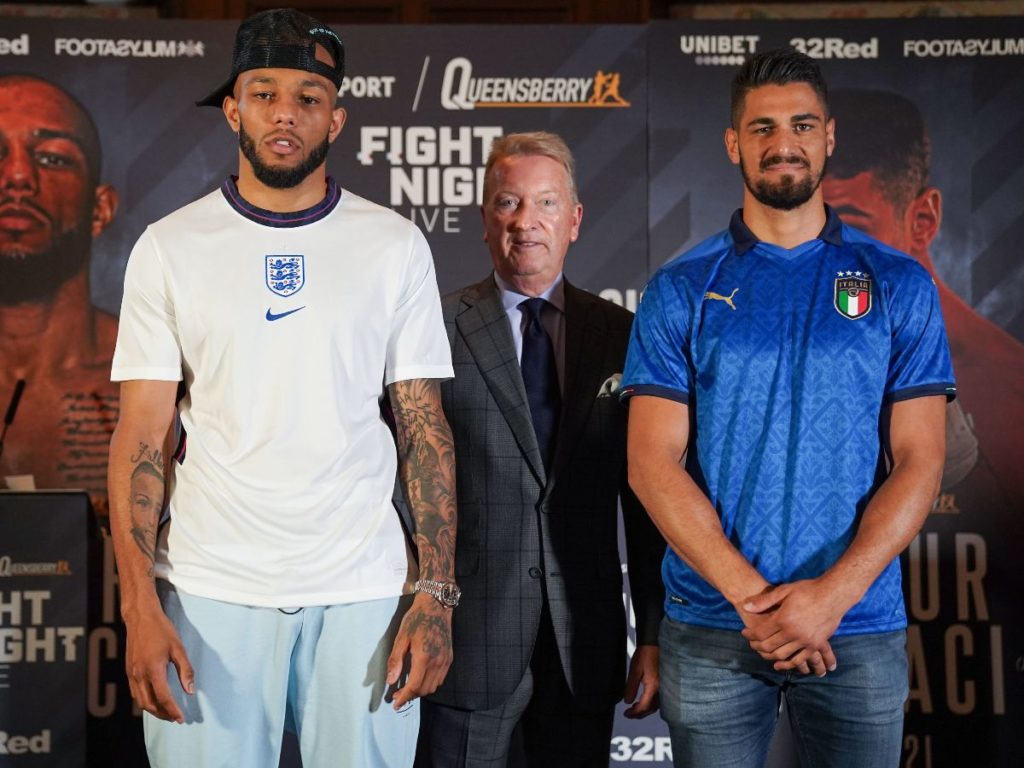 HALL OF FAME promoter Frank Warren today hosted a press conference ahead of Queensberry's show at London's Royal Albert Hall on Saturday (July 10) live on BT Sport.
 
It's England v Italy part one ahead of Sunday's European Championship football final in the main event.
 
Manchester's number one WBO ranked Light-Heavyweight 'King' Lyndon Arthur (18-0, 12 KOs) headlines and makes the first defence of his WBO Inter-Continental title against Italian star Davide Faraci (15-0, 7 KOs).
 
Also on the card WBO ranked number one Super-Middleweight Zach Parker (20-0, 14 KO's) defends his WBO International belt against Uzbek Sherzod Khusanov (22-2-1, 10 KOs).
 
Here are a selection of quotes from the press conference.
 
FRANK WARREN: We want a England v Italy double in football and boxing. There is a lot riding on Lyndon's fight  because he is number one contender with the WBO. He wants to cement his position so can't afford to slip up. Joe Smith is WBO champion, but his mandatory is not due until next year. I will talk to his promoter Bob Arum about the Lyndon fight, but let's get this out of the way. I am expecting Lyndon to win, England to win the next day and I will be barred from Bar Italia. I hadn't seen a lot of Zach when we signed him, but he really impressed me against Vaughn Alexander. How he has gone under the radar I do not know, but he isn't now. Sherzod is a good opponent, but Zach is going to be something special. We need to keep him busy so the public can see him. Once Canelo comes through against Plant in September there will be pressure for his mandatories and Zach will be one of them if he comes through on Saturday.
 
LYNDON ARTHUR I will put England 1-0 up on Saturday don't worry about that. As soon as we beat Denmark it was down to me to score the first goal. I am not nervous because I've been out for a bit, just excited and confident. I'm itching to get in and get the job done. I don't want to talk about anyone else. I have this fight on Saturday and will move on. I don't need to focus on anyone else but David Faraci. He is an undefeated fighter and brings a lot of dangers. He is tall, a good boxer and possesses a good jab, but I will test it all. I will knock him out.
 
DAVIDE FARACI This is a great opportunity for me. I am very confident and I will do my best to win the fight. I feel absolutely confident that I will win on Saturday. He has a lot of experience, but I am not far from him in terms of that. I went to spar with Artur Beterbiev and that was an amazing experience. I learned so much. I believe I am going to win and Italy in the football on Sunday.
 
ZACH PARKER Now I am with Frank we're pushing on and I can't thank him enough because he's getting my name out there. Sherzod is obviously a very good fighter, a two-time Olympian and I am expecting a really hard fight. The plan is to go out there and win. If the knockout comes it comes. That is what I've trained for and what fans want to see. I am with the right promoter to get Canelo. If Canelo wants to come to Britain, Pride Park is the place to box. There is no point in talking Canelo unless I can get through this fight. Any fight I lose I go to the bottom of the pile.
 
SHERZOD KHUSANOV: Zach is a very good boxer and I am expecting a very good fight. He is quick, young, agile and very good on his feet. That is why it will be a very exciting fight, but I have boxed fighters like him before and won. I am always ready to fight and I always bring my best to every fight. I give everything in the ring and I am here to win.
 
Also on the bill, WBO ranked number four Super-Featherweight, Archie Sharp (19-0, 9 KOs) faces Mexico's David Andrade Chavez with the vacant WBO Global championship on the line.
 
Prodigious bantamweight talent Dennis McCann (9-0, 5 KOs) faces Tanzanian John Chuwa (20-4, 10 KOs).
 
2016 Olympian Muhammad Ali (2-0) will have his third professional assignment against Lee Glover (11-4, 3 KOs), with Lightweight KO-artist Sam Noakes (5-0, 5 KOs) and Light-Heavyweight former Olympic Youth champion Karol Itauma (2-0, 1 KO) also featuring.
Please follow and like us: