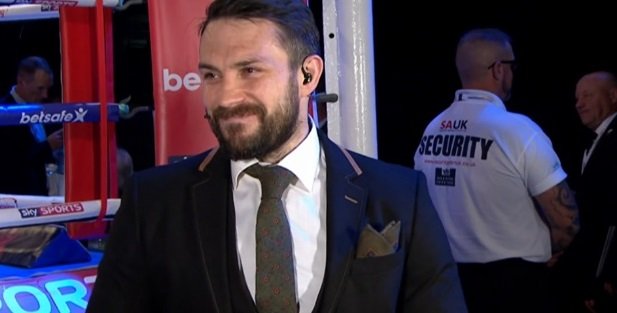 Major global boxing and media company Probellum is proud to announce that former multiple-time world title challenger Paul Smith will join the team as part of its new on-air talent.

During his own boxing career, Smith had fantastic success, winning the British super-middleweight title on numerous occasions and challenging for world honours three times. He also shared the ring with some of the sport's biggest stars, such as Andre Ward, Arthur Abraham, George Groves and James DeGale.

The Liverpudlian is part of the proud fighting Smith family alongside Callum, Liam and Stephen, who made history by having all four brothers win British titles during their respective careers, while Callum and Liam also became world champions.

Since hanging up the gloves, Paul has gone on to become an extremely successful broadcaster within boxing, working for major networks such as Sky Sports, DAZN and BoxNation to name a few, providing expert analysis in the process.

Smith is just one of several big names that will be part of Probellum's on-air talent line up, with even more stellar additions set to be unveiled to in the near future.

Probellum is looking to build an ubiquitous, digital platform to compliment broadcasters and promoters – whilst also empowering fighters and galvanizing a global fanbase in order to promote the biggest fights to boxing fans around the world.

"I really can't wait to get involved in a company that I can see doing really big things in boxing," said Smith. "Boxing is my life, and has been my livelihood, hobby, sport and job since I was nine years of age.

"To continue to work in it and call big fights and be involved in the media side of things is a passion of mine, and I feel lucky and privileged to be doing it."

"It's fantastic to announce that Paul Smith will be part of our on-air talent line-up here at Probellum," said Richard Schaefer, President of Probellum. "He's shown over the last few years that he has one of the best minds in boxing when it comes to breaking down and analysing fights.

"Paul has been there, seen it and done it as a professional boxer, achieving immense success during his own career, and so it means nothing will faze him and he'll be more than happy to speak his mind, and that's exactly what we want.

"This is just the start of what will be a star-studded talent line-up for Probellum, so we can't wait to show boxing fans around the world who else will be part of our team."

Stay tuned for more exciting announcements from Probellum over the coming days.
Please follow and like us: