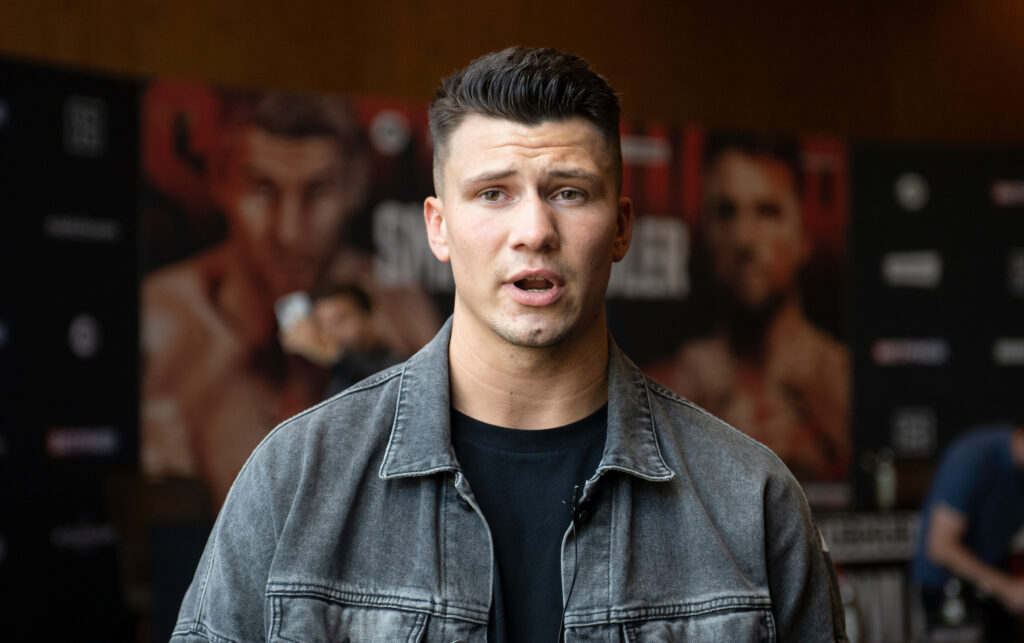 'Too Class' faces Metcalf in must-win Liverpool showdown
Kieron Conway says he will be too big and too strong for James Metcalf when they clash in a must-win Super-Welterweight showdown this Saturday October 9 at the sold-out M&S Bank Arena Liverpool, live worldwide on DAZN.

Both men will be hoping to return to winning ways after suffering losses in their last fights – Conway at the hands of Frenchman Souleymane Cissokho on the huge Canelo vs. Saunders card in Texas and Metcalf at the hands of Ted Cheeseman in a brilliant British Title clash in Gibraltar.

'Too Class' (16-2-1, 3 KOs), who fought to a draw with Cheeseman when they met at Bethnal Green's York Hall back in June 2019, wasn't overawed when he stepped out to box in front of 70,000 fans at the AT&T Stadium and is relishing facing Liverpudlian Metcalf on away territory.

"He likes to move his feet in and out and side to side," said Conway. "He'll try to make it hard for me. Those things aren't going to matter. We've all been hit hard, and I've been hit harder than James Metcalf can hit. I'm going to be ready for anything that he throws at me.

"I'm a big guy for the weight and he's a small guy. He should be a weight below. Physical attributes are going to play a big part in this fight from the get-go. My boxing skills, knowledge and experience is going to come in to play as the fight goes on.

"I can see a stoppage happening around midway. I'm going to hit him a lot of times. I see me taking centre of the ring and him trying to push me back. I'll do whatever I've got to do, not necessarily pushing him back, but I'll take the centre of the ring and I'll keep it.

"He'll try and rough up, make it a mess, swing and try to knock me out. At the end of the day, his only chance is to knock me out. JJ's fight with Ted Cheeseman was an outstanding fight, but you don't need to be in those fights, especially when you're getting on a bit in your career.

"I'm not sure who has more pressure on their shoulders. I do know that there's pressure on me to win this fight. It's not affecting me, because what will be will be. What will be is a Kieron Conway win. British level isn't all that Conway will be, and I'm ready to prove that now."

Conway vs. Metcalf is part of a stacked night of action in Liverpool, former WBO Super-Welterweight Word Champion Liam Smith (29-3-1, 16 KOs) meets 2014 Commonwealth Games gold medallist and Rio 2016 Olympian Anthony Fowler (15-1, 12 KOs) in a massive all-Liverpool clash for local bragging rights, Ted Cheeseman (17-2-1, 10 KOs) puts his British Super-Welterweight Title on the line against Troy Williamson (16-0-1, 12 KOs) following his brilliant stoppage win over James Metcalf in Gibraltar, WBA Bantamweight World Champion Shannon Courtenay (7-1, 3 KOs) defends her crown for the first time against the USA's Jamie Mitchell (6-0-2, 4 KOs), decorated amateur star Peter McGrail makes his highly anticipated professional debut, Tony Bellew-managed Lightweight Luke Willis (10-0, 1 KO) clashes with Norwich's Rylan Charlton (6-1-1, 3 KOs), two-time World Title challenger Natasha Jonas (9-2-1, 7 KOs) returns after her thrilling fight with Katie Taylor in May, Birmingham Heavyweight hope Solomon Dacres (2-0, 1 KO) steps up against the experienced Kamil Sokolowski (10-22-2, 4 KOs) in just his third fight, Wigan Lightweight Rhiannon Dixon (3-0) takes on Anaelle Angerville (1-1-1) over four rounds and Blane Hyland (4-1) meets Santiago San Eusebio (3-1-2, 2 KOs) in a four round Super-Flyweight contest.
Please follow and like us: