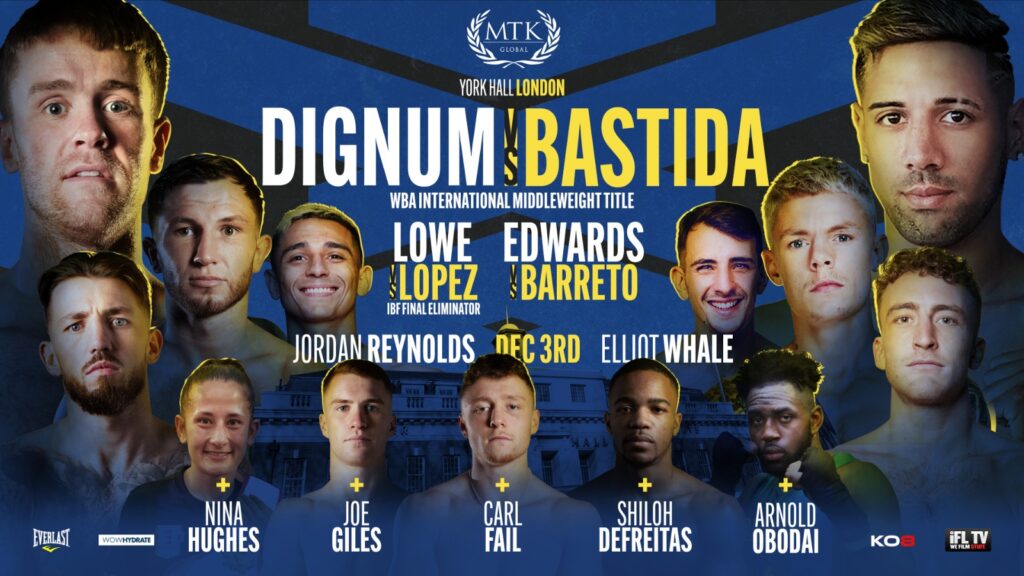 Danny Dignum, Isaac Lowe and Charlie Edwards are among those that will be involved on a massive card when #MTKFightNight heads back to York Hall in London on Friday 3 December.
The action-packed bill will be broadcast in the US on ESPN+ in association with Top Rank, and worldwide on IFL TV, with a number of big fights set to take place.
Undefeated Dignum (13-0-1, 7 KOs) makes his highly-anticipated return, when the world-ranked star squares off with dangerous Argentinian Lucas Brian Ariel Bastida (17-1-1, 9 KOs) for the vacant WBA International middleweight title.
Fellow unbeaten fighter Lowe (21-0-3, 6 KOs) has the biggest test of his career so far when he meets Luis Alberto Lopez (23-2, 12 KOs) in a final eliminator for the IBF featherweight title, while former world champion Charlie Edwards (16-1, 6 KOs) faces Jacob Barreto (13-3, 5 KOs).
The card will also feature a number of exciting rising stars, as Jordan Reynolds (3-0, 1 KO), Shiloh Defreitas (1-0, 1 KO), Carl Fail (3-0, 2 KOs), Elliot Whale (4-0, 1 KO) and Joe Giles (1-0) all return, plus there are professional debuts for Nina Hughes and Arnold Obodai.
MTK Global Promoter Lee Eaton said: "We had an event to remember when we were at York Hall last month, and it's going to be even bigger and better when we return with a stacked show on December 3.

"It's great to have Danny Dignum back after his fight with Andrey Sirotkin last time out, and he's jumping straight back in at the deep end with a tough battle against Lucas Brian Ariel Bastida for the vacant WBA International middleweight title.

"Isaac Lowe looks to continue his quest towards a world title when he has a final eliminator against Luis Alberto Lopez, plus we're excited to have Charlie Edwards competing in his first fight in over a year.

"With the likes of Jordan Reynolds, Shiloh Defreitas, Carl Fail, Elliot Whale, Joe Giles, Nina Hughes and Arnold Obodai all on the card too, it is certain to be a special night inside York Hall."
Further news on the MTK Fight Night event on December 3 will be announced in the near future.
Stay up to date by subscribing to our weekly newsletter HERE and on social media @mtkglobal
Please follow and like us: