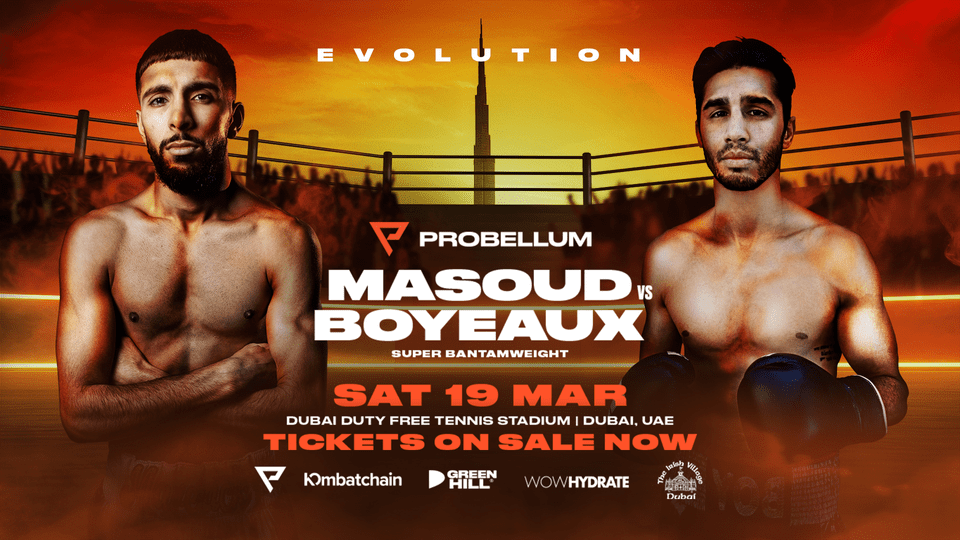 Super slick British prospect Shabaz Masoud will face French opposition when he makes his Probellum debut next month.

The masterful Masoud will look to extend his unblemished record to 10-0 when he takes on the seasoned Yoann Boyeux (43-6) over 10 rounds as part of Probellum Evolution in Dubai on Saturday, March 19.

Masoud – nicknamed 'Maverick' – is rated as one of Britain's hottest talents and the 25-year-old super-bantamweight is set on making a statement against a fighter who clashed with a pound-for-pound star only a few years ago.

The Stoke-on-Trent born switch-hitter signed with Probellum, a global promotion and media company, earlier this month and is ready to show a worldwide audience that the hype around him is real.

"I can't wait to make my debut for Probellum in Dubai next month," buzzed the unbeaten Shabaz Masoud.

"My opponent boxed Naoya Inoue back in 2017 and was stopped in three rounds.  I'd love to do it quicker than Inoue but, either way, I am definitely going to put on a dazzling display of my skills in Dubai."

Masoud, who is trained by one of Britain's most in-demand coaches Ben Davison, has not put a foot wrong since turning professional in 2018 and knows another stand-out display next month will soon have Probellum lining up title shots for him.

"Shabaz is one of the most scintillating prospects, not only in British boxing, but world boxing," said Richard Schaefer, President of Probellum.

"We are delighted to be able to confirm his first fight with us and we know Shabaz is going to put on a show for those at ringside in Dubai and for everyone at home.

"He's in with a very experienced guy but Shabaz has made light work of every opponent he's faced so far – and we expect this to be no different."

Probellum Evolution is a double-header being staged in Dubai next month, with back-to-back shows headlined by world title fights.

On Friday, March 18, Estelle Mossely makes history when she defends her IBO lightweight crown against Yanina del Carmen Lescano – in the first ever female world title fight staged in the Middle East.

And the following night Sunny Edwards puts his IBF flyweight belt on the line against Muhammad Waseem, with Masoud's fight part of an exciting undercard. 

For ticket news on Probellum Evolution, shows in Newcastle and Liverpool, plus live news and updates, be sure to follow Probellum on Instagram, Twitter and Facebook.   
Please follow and like us: