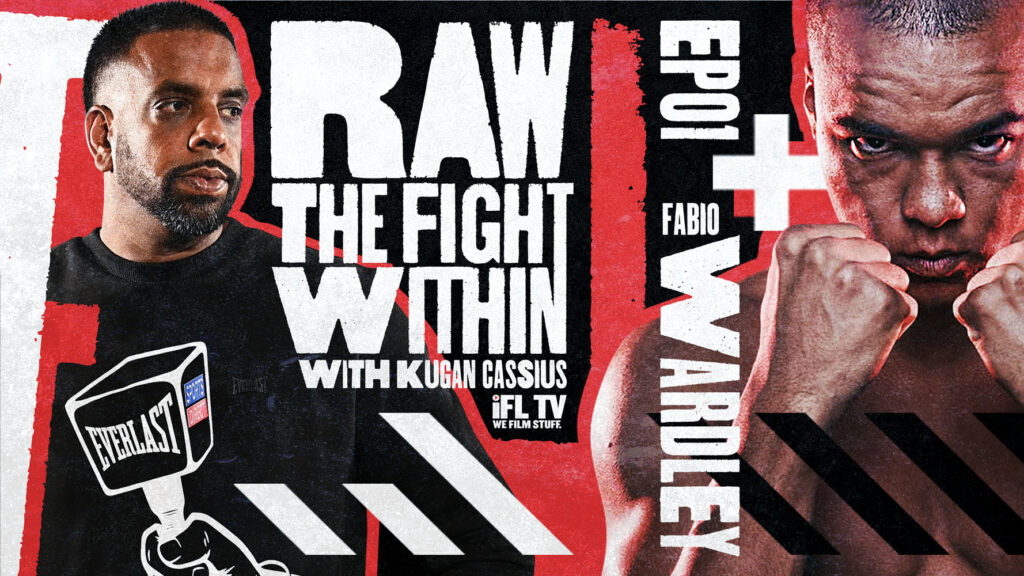 Released weekly, Raw: 'The Fight Within' will feature in-depth interviews with many of boxing's biggest stars
Released weekly, Raw: 'The Fight Within' will feature in-depth interviews with many of boxing's biggest stars
In the first installment of a new boxing podcast hosted by iFL TV's Kugan Cassius, Fabio Wardley speaks about some of the challenges fighters face away from the ring, with the heavyweight opening up about a particularly difficult period of his life in which both his mother and stepfather fell ill as he prepared for a big bout.

Raw: 'The Fight Within', available via all major streaming platforms and iFL TV's YouTube channel from Monday August 8, sees Cassius, founder of the hugely successful iFL TV, sit down with a host of high-profile figures from the world of boxing and delve deep into their individual stories.

One of the most respected broadcasters in boxing, Cassius said: "I've been working on this project for a long time behind the scenes and I'm delighted we are finally set to launch the series.

"Hosting this podcast gives me the platform to conduct more in-depth interviews with fighters, promoters, trainers and other figures from the world of boxing, while hopefully bringing their personal stories to a wider audience and providing some insight into the obstacles they have overcome to get to where they are today.

"This is about much more than boxing. These interviews will enable listeners to get to know the person, rather than just the fighter.

"The first episode, with Fabio Wardley, is packed full of emotion and fight fans can look forward to many intriguing conversations with some of the sport's biggest stars throughout the first series."

In the opening episode, Ipswich-born Wardley, who is yet to experience defeat in 14 bouts since making the move from white collar boxing into the professional ranks, reflects on a particularly difficult three-month period in 2021 as he prepared to face Nick Webb.

"In the build up to the Nick Webb fight I had the worst three months of my entire life," he told Raw: 'The Fight Within'. "I had an elbow injury which meant I couldn't jab at all. I had a back injury which meant some of my vertebrae were compressed and rubbing against each other, so I could barely move or spar at all. I sparred twice in the whole camp. I couldn't move, so much so that I had to get a mix of an epidural and a cortisone injection just to be able to move and get off the sofa. I was barely training, barely fit, barely making it through. The couple of times I did spar, I was getting battered.

"The week before the fight, around seven or eight days before, my stepdad had a stroke and lost all bodily functions. His memory was gone, shot, he wasn't him. He's still alive now and he's recovering, his motion skills are back thankfully, but at that point it was touch and go. A few days after that my mum got Covid and was really unwell, in a bad place. Those two are like my rocks, my go-to for everything.

"I remember days of going to the gym, training and weirdly just getting straight back into bed and lying there. I was leaving my phone on the floor and just cuddling up in bed. I wasn't the same person, a lot of me was missing. I don't know how to explain it but everything was just hard. Even to wake up and be bothered to go to the gym felt hard, to get geed up for fight week was hard. I didn't want to be there, I didn't want to do it. I did, but I didn't."

Wardley also discuses the difficulties faced while trying to combine reaching the top of the elite-level sporting world with being present for family and friends on a consistent basis.

"I want to do as well as I can in my sport, in boxing, but I also want to be there as much as I can for my family if they need anything," he said.

"I feel so bad sometimes because I don't see my mum for weeks on end as I'm here, there and everywhere. She'll call me and say I miss you, I love you, I haven't seen you for a bit and I feel so horrible.

"I know I'm doing it all for her because I want her to be happy and proud. She loves it because if I'm in the paper or on TV she's buzzing, she absolutely loves it, so that's the reason why I do these things. Same with my stepdad."

Wardley is now promoted by Eddie Hearn's Matchroom Sport, a global powerhouse, but his route to the top was an unconventional one compared to many of his peers, resulting in a fierce desire to continually want to come out on top.

"If you relate it to boxing, I started in white collar, they started in ABA (now known as England Boxing National Amateur Championships), so in my head that started me five paces back. I needed to have those harder fights earlier to prove myself, or I had to jump into those harder spars earlier just to prove my point," said Wardley.

"When I go to those spars, I have to give it my absolute all. I can't be a slouch, I can't just take it easy because I don't have an ABA record for people to look at and say: 'oh actually he is good, he just maybe had an off day.' With every interaction and everything I do, I have to be on point at every point."

New episodes of Raw: 'The Fight Within' will be released every Monday, and some of the guests already confirmed to feature in the coming weeks include Conor Benn, who is expected to face Chris Eubank Jr in October, IBF female bantamweight champion Ebanie Bridges and Big John Fisher, father of undefeated heavyweight Johnny Fisher.

Raw: 'The Fight Within' will be available to download via Apple, Spotify, Amazon, Google, Podbean, Pod.co, Acast, Listen Notes, Podbay FM, Audible, Deezer, Podchaser, iHeart and Player FM.

It will also be accessible via iFL TV's YouTube channel.

Listen to iFL TV's latest boxing podcasts here.
Please follow and like us: