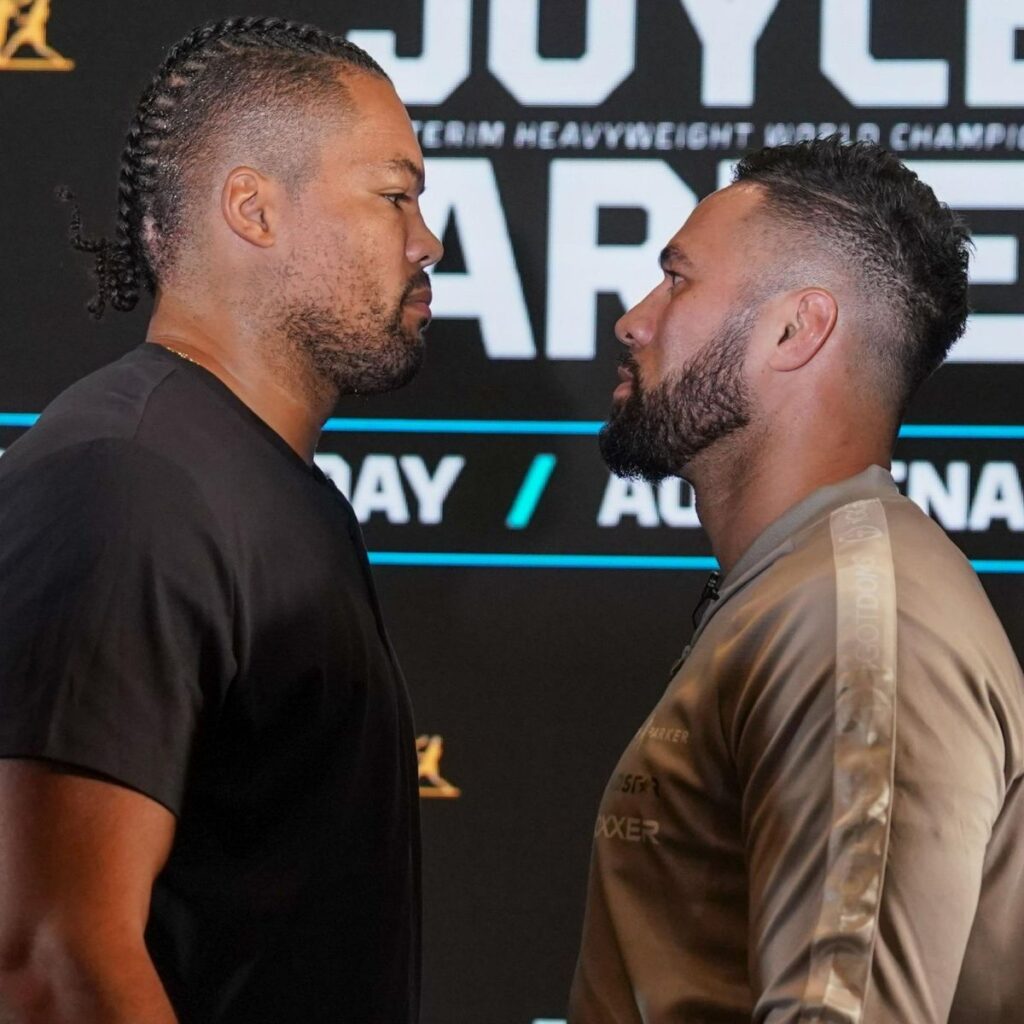 THE TALKING IS now over and Joe Joyce and Joseph Parker are fast closing in on a huge heavyweight collision for the WBO Interim world championship at the AO Arena, Manchester on Saturday night, live on BT Sport Box Office.

This afternoon, the leading two heavyweights with the WBO and their respective teams, faced the media at the towering Hilton Hotel and below is a selection of key quotes from the event.

George Warren (CEO, Queensberry)
"I think we are all just happy to get this fight on. Credit to both guys, it is a fight Steve Bunce summed up pretty accurately in the Independent when he said it is not a fight that either guy really needed, but here we are and testament to both guys for stepping up and doing it. WBO No.1 and WBO No.2, the Interim title is on the line and, while some people might not like that word, it is an important one particular at the moment in the heavyweight division. We all know Usyk, with the unified titles, is angling for a possible undisputed fight early next year with Tyson Fury, but the belt on Saturday night is going to pay a lot into 2023 in the heavyweight division.

"We are here because Joe Joyce wanted this fight, that is the reason. We have worked very hard to get here and both sides will probably admit it was not the easiest deal to get done. We thought we had it done, then we didn't and then we thankfully managed to resolve some issues. It is going to be a cracking night, it is a stacked card and I am really happy to be working with so many different promoters, including Boxxer, and I appreciate their support, particularly Ben and Sky for making this happen and allowing us to make it on BT Box Office. That type of good spirited nature is required in this sport at times and we see it across the whole card. We've got Lou DiBella working with us in regards to the Cacace-Magnesi fight, plus the great Amanda Serrano looking to unify again working with MVP, Jake Paul and Nikisa. Plus our friends at Top Rank for taking this on ESPN+, so this really is a culmination of a lot of different promotional companies coming together, making fights happen and delivering for fight fans."

Joe Joyce
"You have been in the sport a long time – a seasoned vet. He is seeing a psychologist so maybe there is some weakness in his mental capabilities that he needs to work on, I would imagine. I don't believe there will be an easy night against me and he will find out with real time punches to his head, body and all over. He sees me as a lump and this big lump will be coming at him on Saturday night.

"I've had a really great camp with my team and Salas over there has been sending me little clips of what I need to work on in the fight. We are well prepared and have done all the biomechanics and polishing up of all my skills. It was really great to have that last fight against Hammer to show that I can take three or four right hands coming forward. I am in the better place and will improve on all the things I need to in this fight. I feel I am in the best place and what a great opponent in Joseph Parker. I just want to get the gloves on and fight him after this little talking session."

Joseph Parker
"I don't really care what he thinks or what his opinion is on my power or how I fight. He'll get a taste of it on Saturday night. I've done the work and I back everything that Andy says. We've been in the gym every day grinding away with Tyson joining our runs and training, cheering us on with positive vibes. Everything has been ticked off in this camp so there are no excuses and no doubts. I will go in there and win, and win well. Joe Joyce has one style, I don't see any adjustments or any change. I t just depends on how I show up.

"I see a lump when I look at him, a big man, a man who is confident and ready. And is going to be stopped in his tracks. I truly believe that and I am very confident going into this fight. Hype train."

Ben Shalom (Boxxer)
"Outside maybe the top four guys, this is the biggest fight in the division with what's on the line. Mentioning Joe Joyce wanted this fight, when we signed Joe Parker, despite him signing with us he said 'Ben, if there is a way, make this fight happen'. We managed to work with George and get the terms that Joseph wanted and George was great with that. This is the fight Joseph Parker wanted, make no mistake about that. And so to be able to get it on for him, he feels this is coming at the right time in his career, he has had a few fights with Andy Lee, and he feels like he is coming into the peak of his career. He is 30 years old, a former world champion and seven years younger than Joe Joyce. He feels fresh, he feels ready, he's got the experience and we felt this is the perfect fight. Thankfully, with Queensberry and BT as well, the fight is on and the fans are happy. I think the card is very, very good as well and I can't wait for Saturday night."

Ismael Salas (Joyce trainer)
"I've been following Mr Joe Parker and his team during training camp for this fight and he has been doing great conditioning, working hard. One thing I would like to say to his team, you can run, but remember you can't hide. We have been working with so many good sparring partners and the Hammer fight broke the ice after a layoff without a fight. We will see on Saturday night, man down, man down!"

Andy Lee (Parker trainer)
"Any fight can be made an easy fight depending on what style you use and what tactics you use. Joseph Parker has been well drilled throughout this camp and knows what he has to do to make this an easy fight. I'm not going to say how he should do it, but he knows and I know. I mean no disrespect to Joe Joyce, we all know his credentials in the sport and what he has done so far. He hasn't fought anyone like Joseph Parker yet. It will be a hard fight and at this level it is a minimum requirement, to work hard. Joseph Parker has all the skill, the speed and the talent, plus the determination to win this fight easily – if he does it well."

Adam Moralee (Joyce manager)
"We have tremendous respect for Joseph Parker, a former world champion who has got the heart of a warrior and he is elite. A world champion and Joe wants to get there. I think that Joe Joyce can get there and will get there on Saturday night. Joseph's team have publicly been saying things that show very little respect for Joe Joyce. I heard someone on their side say he has got zero boxing ability. I look at this man who is about to go 15-0. Show me a man who has got his resume at 14-0. He has not fought anyone with a losing record, he has fought former world champions, beaten Daniel Dubois, who people said would flatten him in two or three rounds. He consistently defies expectations and consistently defies the disrespect that he gets constantly. I think on Saturday you are going to see the real level of Joe Joyce and what he does when he faces off against a fighter at the very top of the division. No doubt when Joe wins people will still criticise things, but this guy is going up and up and only going one way. For me, Usyk, Fury and Joyce are the top three in the division."

David Higgins (Parker manager)
"We're feeling good and it is a privilege to be back in Manchester for the fourth time. Joe has had three wins in Manchester so far and has been welcomed by Tyson Fury and the wonderful people around him who are almost like family. So it is not like fighting on enemy territory, it is like a home fight and we love it here. Stuff flies around on social media, but to say we don't respect Joyce is silly. We've massive respect for him and there is a reason most top heavyweights have avoided Joe Joyce. He is a formidable opponent, but our Joseph Parker has never shied away from risk and has stepped as quick as possible into the biggest fights and occasions with an eye for a world title. Outside of the title holders, in Joyce and Parker you've got the two heavyweights at the very top. It is an international blockbuster event on worldwide TV."

Photos are free to use, please credit Queensberry Promotions where possible.
Please follow and like us: