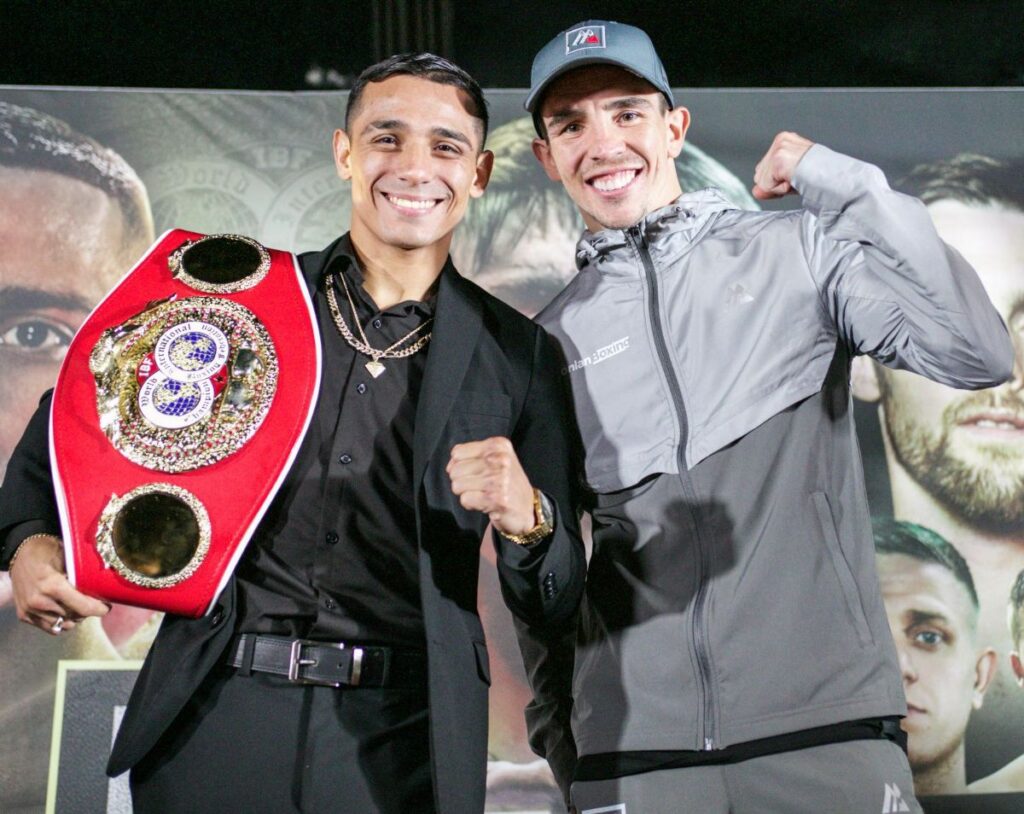 THE LEADING CHARACTERS in Saturday night's World Championship show at the SSE Arena in Belfast faced the media today in a final press conference ahead of Michael Conlan challenging Luis Alberto Lopez for the IBF world featherweight title, live on BT Sport.

Below are the key quotes from this media event that also featured promoters Bob Arum and Jamie Conlan and undercard fighters including Queensberry champions Nick Ball, Anthony Cacace and Pierce O'Leary.

Michael Conlan

I'm just excited, really excited about Saturday night. I thank Luis for coming to Belfast, I appreciate it, but on Saturday night I will be champion. I have experienced a lot of atmospheres throughout my career now, very mad, crazy atmospheres and Saturday night will be no different. I know how to handle it now. He plans to end it quickly, but I know he has changed trainers a few times during this training camp and there are probably things going on with him. I don't think he truly believes that, he is saying it for the cameras and that is ok, no problem. I respect him as a fighter, I respect his opinion, but on Saturday night I will be champion. I am expecting the best Luis Alberto, he is going to bring everything and try and come in and knock me out. I am prepared for everything he is going to do, I have ticked every box I need to tick and I am very confident going into this fight. It is a pleasure to have this in Belfast, but I know it doesn't mean too much because Luis travels well. I believe on Saturday night it will be 'and the new'.

Luis Alberto Lopez

I have already beaten up all the prospects and fighters Top Rank have given to me so, on this Saturday night, I want to prove to everyone that I am a true champion and, after beating Michael Conlan, I will go for the next world champs. I am used to this type of environment, I am used to travelling and this is my third time here in the UK. Everybody wants to see me lose but, don't forget, I am the world champion. Every time they tell me that I am going to lose, that I am going to be knocked out, but when I jump into the ring there are two of us and I am used to it. I am going to be taking the victory.

Jamie Conlan

It is fantastic and we are delighted to bring it to Belfast. A fantastic champion like Luis Alberto Lopez, risking everything and prepared to put it on the line in Belfast is a credit to him. I truly believe this is a special night, a special moment in Irish boxing history, that Ireland will have its first male amateur world champion becoming a first male professional world champion. I believe Michael is the man to do it. This is the best fight on Saturday, the most intriguing fight in the division between two unpredictable fighters who can adapt and adjust. It is not to be missed.

Bob Arum

I've been there from the start of Mick's professional career and people ask what attracted you to Mick? Go back and remember that Olympiad where he got cheated out of a decision win and he knew exactly who to blame. Remember Mick? We gave the finger to Putin and we continue to give the finger to Putin! It has been a great run with Mick, he is a terrific young man, a really good fighter who is stepping to the plate, as we say in the United States in a baseball term, against a really tough, tough opponent and world champion in Luis Lopez, who doesn't hesitate to go into his opponents home town and perform spectacularly. It may end up being the fight of the year.

Anthony Cacace

This has been eight years in the making, the last time I fought here was in 2015. I am just excited to fight in front of my home city and show what I can do. I am delighted to be on a show stacked with talent and Mick fighting for a world title. It means a lot to be fighting in front of my family and friends, who don't have to fly and follow me around the UK. I don't know too much about Damian Wrzesinski, I've watched a bit of tape and he hasn't fought much out of Poland. I don't really care about Damian, I just want to do what I know I can do and, if I do that, I should win pretty handy.

Nick Ball

I am just trying to stay focused. All he says sounds good but I have heard it all before and it is nothing new to me. Let's see what he is saying when he gets punched in the face on Saturday. I am looking forward to it. It is a massive show and I appreciate everyone who got me on it. There is a world title fight at my weight and it is a good chance to show what I am about. I can't lose focus, I've got another man who is coming to win and, if you think I underestimate him, you clearly don't know me. I've got my business to handle first, then we will think about world title belts.

Ludumo Lamati

Firstly I want to thank Nick Ball's team of Queensberry. If it is the toughest fight, I don't know, I will find out on the 27th. I am looking forward to this and excited that I have finally got a shot that I think will take me to the world title. I think he is strong, he is a threat and experience-wise, I don't know, we will find out. I will give him a fight and we will see how he will handle a fight. I've been in fights, I've been pushed and pushed back. He is strong, comes forward and if he is going to bully me I will deserve that in the ring. I have everything to beat him. 22 guys have tried to beat me and failed all over the world.

Pierce O'Leary

I want to thank Top Rank, Conlan Boxing and, most of all, my manager Francis, George, Frank and Queensberry for getting me on this card. It is a massive card for Irish boxing itself. It is great to be home, it is not Dublin, but I am going to carry a lot of Dubs up and it is going to be loud. They call me Big Bang, so I want to go out and I want to destroy people. I've told you before, I don't bang everything!

NB: DUE TO THE CLASH OF THREE MAIN EVENTS ON SATURDAY, LOPEZ-CONLAN RINGWALKS WILL BE AT 9PM, LIVE ON BT SPORT.
Please follow and like us: