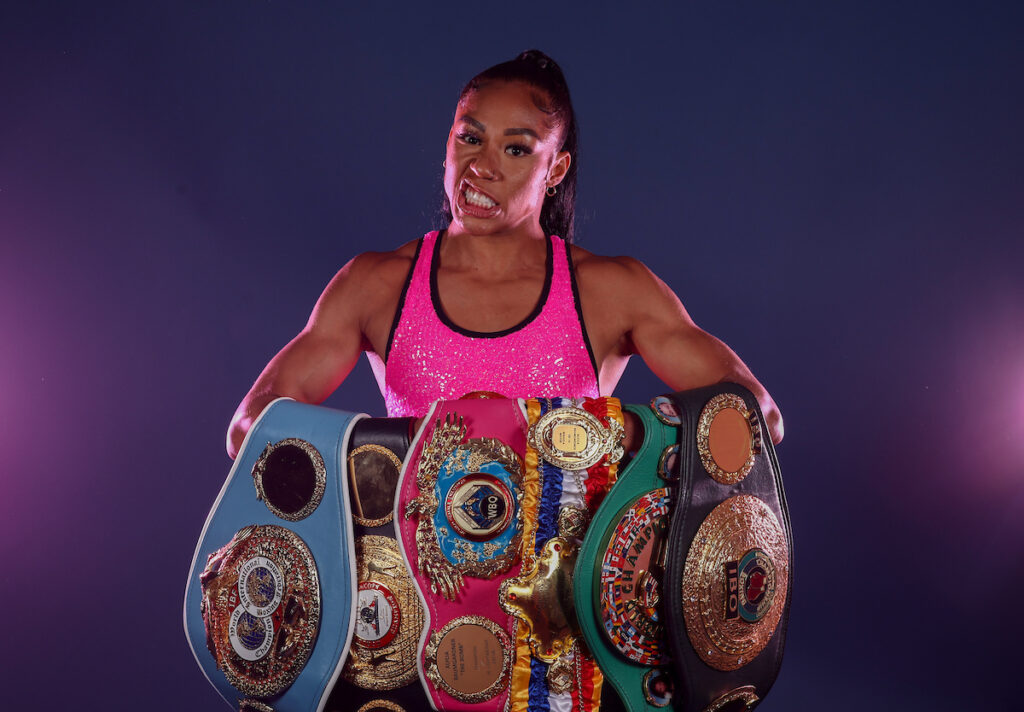 Undisputed champion hunting Taylor, Serrano, Cameron and Mayer after revenge mission in Detroit 
Alycia Baumgardner is hunting the biggest names in the sport – but only when she completes a revenge mission in style as she defends her undisputed Super-Featherweight title against old foe Christina Linardatou at the Masonic Temple in Detroit on Saturday night, live worldwide on DAZN.

Baumgardner (14-1 7 KOs) headlines in her hometown for the first time as she makes the second defense of her undisputed crown and can right the only loss of her career in the process as she meets Linardatou (14-2 6 KOs), the Greek who defeated her over eight rounds in July 2018.

'The Bomb' became undisputed with a huge win over Mikaela Mayer in London in October and now headlining at home, the 29 year old is getting a taste of the big time and wants more, providing she can exact her revenge on Saturday night.

"I'm writing a book, on who I am," said Baumgardner. "Winning on Saturday closes a chapter. People are saying, 'well Christina was her only loss'. There are only clips of the fight on YouTube, I've never seen the whole fight. I remember when I was in the ring that night and her hand was raised, I was like 'damn, I've got my first loss'. But then I was like, 'I'm not done, who cares?'

"It was needed for growth, and I want people to recognize what growth looks like; it's ugly, and it hurts. But there's light at the end of the tunnel and it tells a story.

"I wanted to show people that a loss doesn't have to be a bad thing. I got to see at that given time, what it would have looked like had I won because I saw her career; she became a World champion after that. And I thought 'wow, that could have been me' but everything comes back full circle, and I am happy everything played out the way it was supposed to as now I'm undisputed and fighting her in my backyard. I keep thinking how the fight is going to play out, it will be spectacular, it will give me the feeling that this is what I have been waiting for and I am going to punish her.

"I want her to know that she is in with someone that isn't the same fighter that she fought five years ago. I chose her. I could have fought anyone, but I chose her. She's hungry and she should be. She has fought some great fighters, and she's pumped that she's beaten me before, that drives her, but she has no idea. After the first fight she came up to me and said you are the hardest fighter I've ever fought. If she thinks I hit hard then, just wait until she gets this work. You are in there with a dog, and I am going to punish you.

"To be in this era now as a woman fighter is everything I imagined when I turned pro. I can say I am part of history and we have been able to showcase to the world what a woman athlete looks like.

"I would love a fight with Katie Taylor, Amanda Serrano, Chantelle Cameron; those are huge fights. We have undisputed champions at every weight class and it builds to big fights, whatever way you look at it. A rematch with Mikaela, even at 135lbs, would be great, to beat her in the States in front of a sold-out crowd would be amazing. I want the Katie fight, I was there in Dublin, and I saw something different. I want all the girls, I'm hungry, I'm a fighter and I like a challenge.

"This is going to show everything, the full package, people have seen glimpses and in my last performance I gave myself a B, there's an A+ out there and on Saturday it's going to be that."

Baumgardner's defense is part of a big night of action in Detroit as Cuban amateur sensation Any Cruz makes his professional debut against former World title challenger Juan Carlos Burgos.

Michigan Heavyweight Jermaine Franklin returns to action after back-to-back fights in London, England against Anthony Joshua and Dillian Whyte, and he faces unbeaten Mexican Issac Munoz, while the night is kicked-off live on DAZN by Detroit's Ja'Rico O'Quinn taking on Carlos Mujica over ten rounds at Featherweight.
Please follow and like us: