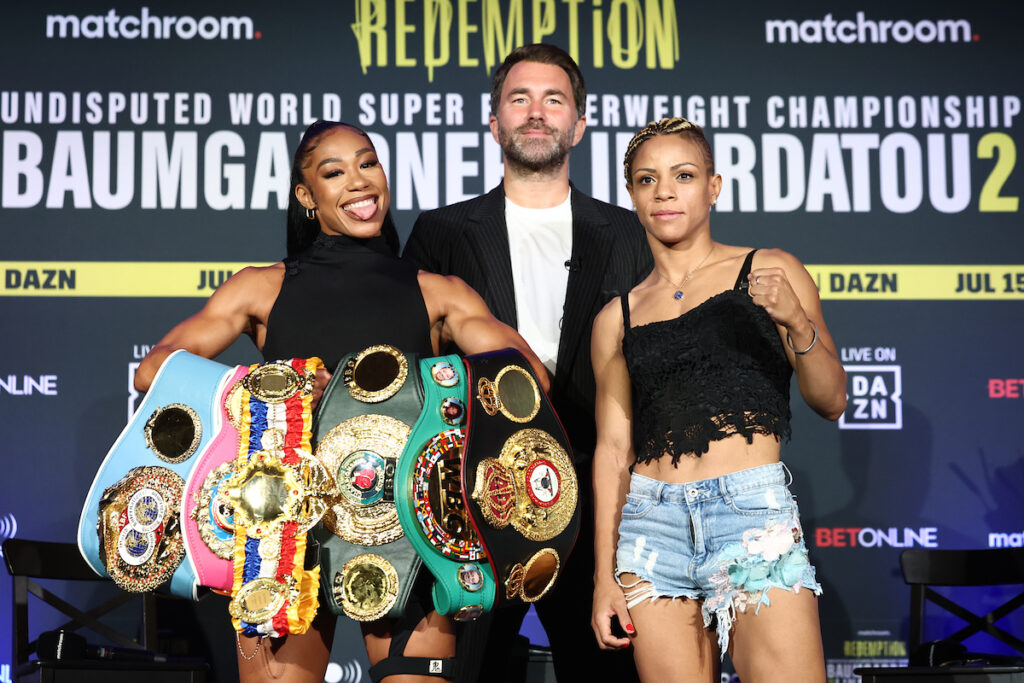 Alycia Baumgardner (14-1 7 KOs) defends her undisputed Super-Featherweight title against Christina Linardatou: This is a full-circle moment for me. I am looking at her and picturing myself at our first fight, and knowing who I am now, the growth that was necessary to get to this moment, I'm a completely different fight now and she will see that on Saturday.

That fight was, at the time, me stepping up and looking for the challenge. I was 5-0, she was 9-1. I wanted a challenge and that was the one for me, it was a close fight, a split-decision, and I got the loss. But I just thought 'what's next?' I had to be real with myself, change my team and my environment, location, everything, and it was all necessary to be here.

If you know anything about being a hunter, you must kill your pray. I'm going to make sure that arrow goes through her heart so she can't get up. Even though I am undisputed I still have that dog in me, the hunger I had when I was eight years old, and she's the perfect fighter to bring that out of me.

I am embracing all of this. It's time to feel the love, another time to make history in Detroit and do that as a woman, show the world who I am. I am coming for destruction. I have my grown woman strength and I am ready to put these hands on her and get that lick back that I have been waiting to do.

Christina Linardatou (14-2 6 KOs) challenges undisputed Super-Featherweight champion Alycia Baumgardner: it's such a great opportunity for me, it's something any boxer dreams of – the biggest thing a boxer can achieve. She's already done it, but I have beaten her once and I will do it again.

She is very strong, I remember she was always hugging in the last round, she worked in the early rounds but then hugging – I was always hunting, never hugging, like I do in every fight.

I always fight hard from first to last bell, because I am the underdog and I know I must go and get it. I have many skills, but I need to be dog and go and get it.

I am not afraid of the power, I'm used to it, I spar with men, and I have been preparing for it, and I have a great defense too.

To win means a lot – I am looking for the big fights she is talking about. I want to do it; I've been through hell to get here. I feel unstoppable.

Andy Cruz makes his professional debut at Lightweight against Juan Carlos Burgos for the IBF International title: I want to thank everyone for the support I've had leading up to this. It's all very new, but I am completely ready for this new challenge in boxing. I am going to take it on like I always have. I know it's completely different even though it's the same sport, but I have made all the changes necessary to be ready for it, and I think it's going to be a great fight.

It's important to have the positive energy in the gym and I am delighted to have made the step to Philadelphia with Team Ennis, and I feel I am learning every day being in that gym.

There are no easy fights in boxing, and if you do think you have one, there's no creditability in taking on that task. So, I have prepared well for a hard fight, and I am going to put on a show for all those that have been waiting to watch me.

Juan Carlos Burgos (35-7-3 21 KOs) faces Andy Cruz for the IBF International Lightweight title: I want to thank Eddie Hearn for the opportunity to fight a great prospect like Andy Cruz. There is no doubt he has had a fantastic amateur career, but he is moving into the pro game, and it is very different. We will both be ready to put on a great fight on Saturday and the fans will be the true winners.

He will be desperate to show that he can live up to the hype and show his skills, but he will find this is very different, it is about giving pleasure to the fans in the pro game, but I am sure he will do that too.

Jermaine Franklin (21-2 14 KOs) faces Issac Munoz over ten rounds at Heavyweight: I feel like I have paid my dues, learned some new stuff and I've been back to the drawing board and ready to go again.

One thing I learned was part of the mental game; every fight is not the same. Fighters have a lot of built-up aggression, and any little thing can set us off. Those fights with Anthony Joshua and Dillian Whyte, I remember getting into it a bit with the referees, taking my focus off what I should be dialed into. So that's been my focus now, staying concentrated on what is important, and letting nothing get in the way, just tunnel vision.

We are coming for all the big fights and soon I am going to be a top five Heavyweight, not top 15. I am still learning and still building, but I feel that the sky is the limit.

Issac Munoz (17-0-1 14 KOs) faces Jermaine Franklin over ten rounds at Heavyweight: It's an honor for me to step in the ring with Jermaine. I have a lot of experience with 203 amateur fights, so I think I belong in this place, and I am happy to be here.

It is very difficult to find a Heavyweight in Mexico, but I am very happy to be in Detroit and I think it's going to be a great fight.

Ja'Rico O'Quinn (15-1-1 8 KOs) facing Carlos Mujica over ten rounds at Featherweight: I'm ready to go out there and have fun. It's nothing personal with Carlos, it's personal with myself/ I know what I can do, and on this platform it's my time. I've been working hard and waiting for this opportunity, it has come out of nowhere, but I am prepared and ready.

I wanted something like this, someone to make me train hard, he's coming off a good win and he has momentum, so he'll come out blazing, but I am ready for that. You're going to get firework from me, high-level boxing, and bombs – it could end early, at any moment.

Carlos Mujica (8-2 2 KOs) facing JaRico O'Quinn over ten rounds at Featherweight: We often get these opportunities at late notice but that's fine, we're always in the gym and have great sparring right there. I'm 100 per cent prepared, there will be no excuses, I'm here to win and show what I am made of.
Please follow and like us: