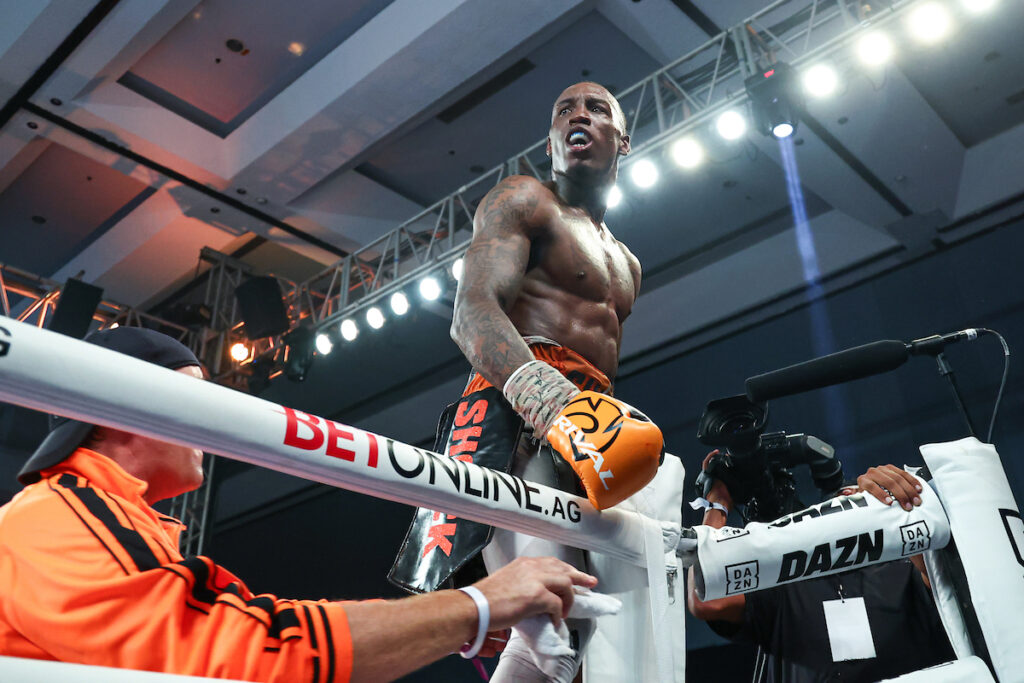 Champion retains title with final round TKO after incredible championship rounds in Cancun
O'Shaquie Foster dug deep to retain his title with a stunning final round KO win over Eduardo Hernandez – where the pair wrapped a bow around the round of the year with incredible action in the 11th round of their brilliant battle in Cancun, Mexico, live on DAZN.

Foster (21-2 12 KOs) was making the first defense of his title in the Mexican mandatory challenger's homeland, and the belt was on its way to changing hands on the judges' cards before the insane 11th round that took the breath away, and ultimately changed the course of the contest.

Hernandez (34-2 31 KOs) somehow stayed on his feet as Foster stunned him then poured on the pressure, with the Mexican on the shakiest of legs and seemingly ready to go. But from out nowhere, 'Rocky' hurt the champion and began to unload his own arsenal as he looked capable of scoring his own stoppage, with both men ending a breathtaking three minutes of action trading the most brutal of leather.

Early in the final round though, it was apparent that Foster had more left in the tank and so it proved, as he floored Hernandez twice before the referee stepped in to end matters with just 28 seconds left – and agonizingly for the challenger, the scorecards after the fight revealed that had Hernandez heard the final bell, he'd have been crowned the new king, with two of the judges having him comfortably ahead – 110-99 and 107-102 – going into the final round.

Hernandez will look to regroup and come again in 2024, but for Foster, a big box is ticked by pulling out a dramatic final round KO to cling onto his title in the most dramatic fashion, and one that will make the boxing world stand up and take notice, as 'Ice Water' called out Joe Cordina to face him in a unification clash if the Welshman retains his IBF crown next weekend in Monaco against Edward Vazquez.

"My coaches were telling me that I was behind around the eighth round so I knew I had to push it before I lose my belt, I have to give it all, so that's what I did," said Foster. "Rocky is a hell of a puncher and a hell of a fighter, I had to dig deep, but I knew I could catch him. Around the ninth or tenth round, I started seeing his body limp when I hit him with the right hand, so I just kept having faith in it.

"In the 11th round I hurt him, but he came back and hit me with a good shot so it gave him a little more hope, but in the 12th round I knew I could catch him.

"With the comeback KO I rate my performance an eight out of ten, but I really wasn't too satisfied with how I fought. But it was a fun fight, I had fun in there.

"I want the winner of the fight next week with Cordina and Vazquez, that should be next, unify, let's do it. I've proved I'll go anywhere to fight, so if it's the UK, let's do it."

Elsewhere on the card, Justis Huni (8-0 4 KOs) made an impressive debut under the Matchroom banner, widely outpointing Andrew Tabiti (20-2 16 KOs) to win the WBA International Heavyweight title and Eduardo 'Sugar' Nunez (25-1 25 KOs) extended his ominous KO streak to 25 out of 25 by blasting Oscar Escandon (27-7 16 KOs) away inside two rounds.
Please follow and like us: