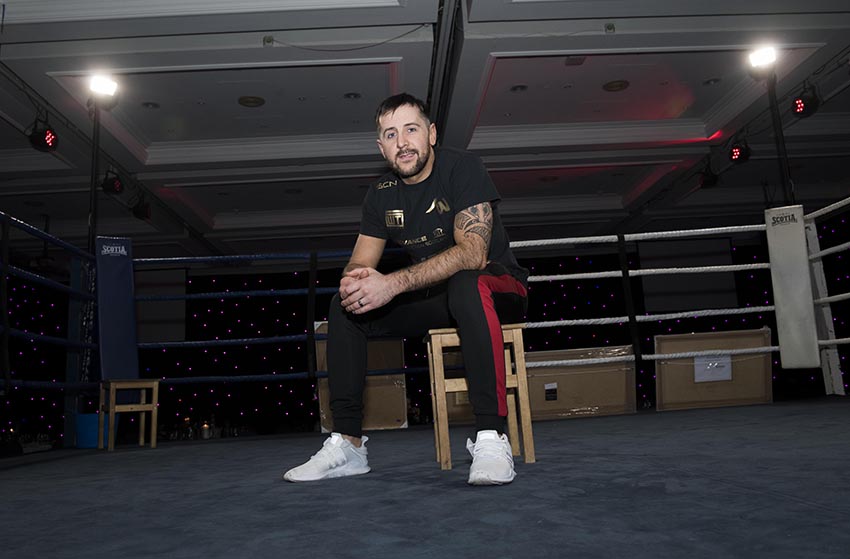 Recently crowned World Boxing League (WBL) International Super Middleweight Champion Alexander 'Zander' White is set to head up the latest offering from Glasgow promoter Thomas Melville, VALENTINE MASSACRE II, which takes place at the Marriott Hotel in Glasgow on Saturday 16th February 2019.


Back in November, White achieved his boyhood dream by winning his first pro boxing title, and boy oh boy did he do it in style, with a sensational first round stoppage win over Latvian Dmitrijis Ovsjannikovs.


On Saturday the 16th February, White returns to the ring to face Liverpool's David Calveley in a non-championship contest.
Speaking from his home earlier, White spoke briefly about the upcoming showdown with Calveley;


"I'm really looking forward to getting back in the ring and can't thank Thomas (Melville) enough for doing everything possible to get me out again so soon.


"We were initially looking at defending the title on my next outing, but since my last fight didn't last a round, decided it may be wiser to get some rounds under my belt before I tackle my first defence.


"Hopefully this fight I will get some rounds under as only really had two minutes competitive ring time in four years and by the end of the year I am looking for really big fight, against Tommy Jacobs maybe, I quite like the prospect of that fight.


"I don't know too much about David (Calveley), other than he's tough, unbeaten and always up for a good scrap, so hopefully this should be a great all action fight for the fans, I can't wait."


In addition to White-Calveley Thomas Melville has put together a stellar undercard, that includes Professional Boxing Council (PBC) International Light Heavyweight Champion Ben McGivern in a non-championship Cruiserweight contest against Ireland's Ryan Kilpatrick.


Bellshill Light Heavyweight Paddy Reilly looks to take his unbeaten tally to six when he faces Liverpool's Kyle McNicholas, whilst Glasgow based Middleweight Brian Douglas makes his third professional outing against Belfast's Marty Kayes.


Making a most welcome return to the ring after a close two year sabbatical from the sport  is Kirkintilloch Welterweight Dougie Vincent, who is set to face Dundalk, Ireland's Michael Kelly in a four round contest.


Alexander 'Zander' White versus David Calveley, plus full undercard of fights takes place on the Thomas Melville promoted VALENTINES MASSACRE II event at the Marriott Hotel, 500 Argyle Street, Glasgow G3 8RR on Saturday 16th February 2019.


Tickets; priced £50 (Ringside) and £40 (Tiered Seating) are available now from any boxer competing or by calling 07932 069376 or on-line at www.tkoboxoffice.com (booking fee applies).
Please follow and like us: