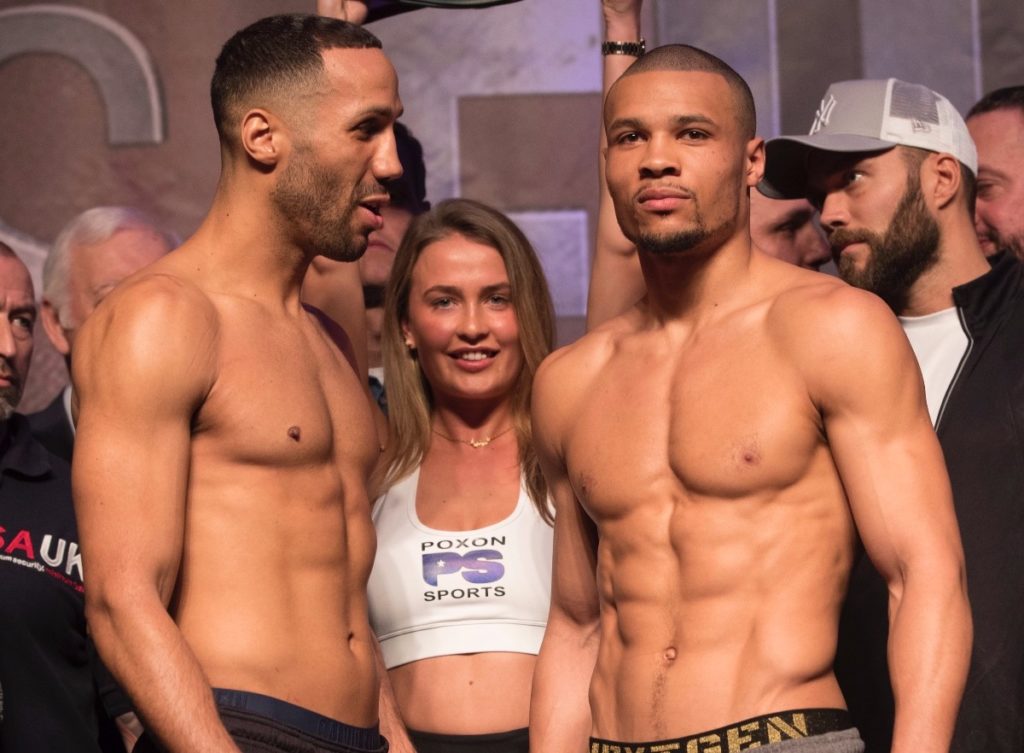 A Storm Is Coming is headlined by the long awaited domestic blockbuster showdown between James DeGale and Chris Eubank Jr for the Vacant IBO World Super-Middleweight Championship; Commonwealth Heavyweight Champion Joe Joyce defends his title against Challenger and Former WBC World Champion Bermane Stiverne; Former IBF World Featherweight Champion Lee Selby returns to action and takes on Omar Douglas; The British Heavyweight Title Eliminator between Andre Sterling and Ricky Summers. Plus an action packed undercard featuring super-featherweight Anthony Cacacae; welterweight Chris Kongo; light-heavyweight Seb Eubank and the pro-debut of cruiserweight Chez Nihell.
A STORM IS COMING
SATURDAY 23rd FEBRUARY 2019 THE O2, LONDON
Doors Open 17:00, First Bell 18:00EXCLUSIVELY LIVE ON ITV BOX OFFICE
THE IBO WORLD SUPER-MIDDLEWEIGHT CHAMPIONSHIP 12 X 3 Minute Rounds at 12st (168lbs)
JAMES DeGALE MBE V
Harlesden, London, England 24-2-1 (14) Two-Time IBF World Champion Weight: 11st 12lbs (166lbs)
CHRIS EUBANK JR.
Hove, Brighton, England 27-2-0 (21)
Former IBO World Champion Weight: 11st 13lbs (167lbs)
THE VACANT IBF INTERCONTINENTAL LIGHTWEIGHT CHAMPIONSHIP 12 X 3 Minute Rounds at 9st 9lbs (135lbs)
LEE SELBY V
Barry, Wales
26-2-0 (9)
Former IBF World Champion Weight: 9st 8 1/2lbs (134.7lbs)
OMAR DOUGLAS
Wilmington, Delaware, USA 19-2-0 (13)
Former NABA Champion Weight: 9st 6lbs (132lbs)
THE COMMONWEALTH HEAVYWEIGHT CHAMPIONSHIP 12 X 3 Minute Rounds
JOE JOYCE V
Putney, London, England 7-0-0 (7) Commonwealth Champion Weight: 18st 13lbs (266lbs)
BERMANE STIVERNE
Montreal, Canada 25-3-1 (21)
Former WBC World Champion Weight: 19st 7lbs (273lbs)
ANTHONY CACACE V
Belfast, Northern Ireland 16-1-0 (7) Former Celtic Champion Weight: 9st 3lbs (129lbs)
ALAN CASTILLO
Cordoba, Argentina 26-7-0 (10)
South American Champion Weight: 9st 4lbs (130lbs)
UNDERCARD…2/
ELIMINATOR FOR THE BRITISH LIGHT-HEAVYWEIGHT CHAMPIONSHIP 10 X 3 Minute Rounds at 12st 7lbs (175lbs)
ANDRE STERLING V
New Cross, London, England 9-0-0 (4)
Southern Area Champion Weight: 12st 6lbs (174lbs)
RICKY SUMMERS
Wombourne, England 15-1-0 (5) Weight: 12st 7lbs (175lbs)
8 X 3 Minute Rounds Super-Featherweight Contest
6 X 3 Minute Rounds Welterweight Contest
CHRIS KONGO V
Bermondsey, London, England 10-0-0 (6)
Weight: 10 1 (141lbs)
CEDRICK PEYNAUD
Paris, France
6-6-3 (4)
Weight: 10st 9lbs (149lbs)
4 X 3 Minute Rounds Cruiserweight Contest
CHEZ NIHELL V
Aldershot, England
Pro-debut
2018 ABA Super-Heavyweight Champion Weight: 14st (196lbs)
KENT KAUPPINEN
Swandlincote, Derbyshire 2-7-0 (2)
Weight: 14st 3lbs (199lbs)
4 X 3 Minute Rounds Light-Heavyweight Contest
SEB EUBANK V
Hove, Brighton, England 1-0-0 (1) Weight: 12st 5lb (173lbs)
DAN BELCHER
Chippenham Pro Debut
RUNNING ORDER
18:00 ITV4 ON AIR LIVE
8 x 3 SUPER-FEATHERWEIGHT (@9st 4 lbs)
ANTHONY CACACE vs. ALAN CASTILLO
19:00 ITV BOX OFFICE ON AIR LIVE
10 x 3 ELIMINATOR for BRITISH LIGHT HEAVYWEIGHT CHAMPIONSHIP (@12st 7lbs)
ANDRE STERLING vs. RICKY SUMMERS
12 x 3 VACANT IBF INTER CONTINENTAL LIGHTWEIGHT CHAMPIONSHIP (@9st 9lbs)
LEE SELBY vs. OMAR DOUGLAS
12 x 3 COMMONWEALTH HEAVYWEIGHT CHAMPIONSHIP
Ringwalk not before 21.00
JOE JOYCE vs. BERMANE STIVERNE
12 x 3 VACANT IBO SUPER-MIDDLEWEIGHT CHAMPIONSHIP (@12st)
Ringwalk not before 22.00
JAMES DEGALE vs. CHRIS EUBANK JR
FLOAT FIGHTS
6/8 x 3 WELTERWEIGHT (@10st 10lbs)
CHRIS KONGO vs. CEDRICK PEYNAUD
4 x 3 CRUISERWEIGHT (@14st 4lbs)
CHEZ NIHELL vs. KENT KAUPPINEN
4 x 3 LIGHT-HEAVYWEIGHT (@12st 10lbs)
SEB EUBANK vs. DAN BELCHER 
Please follow and like us: