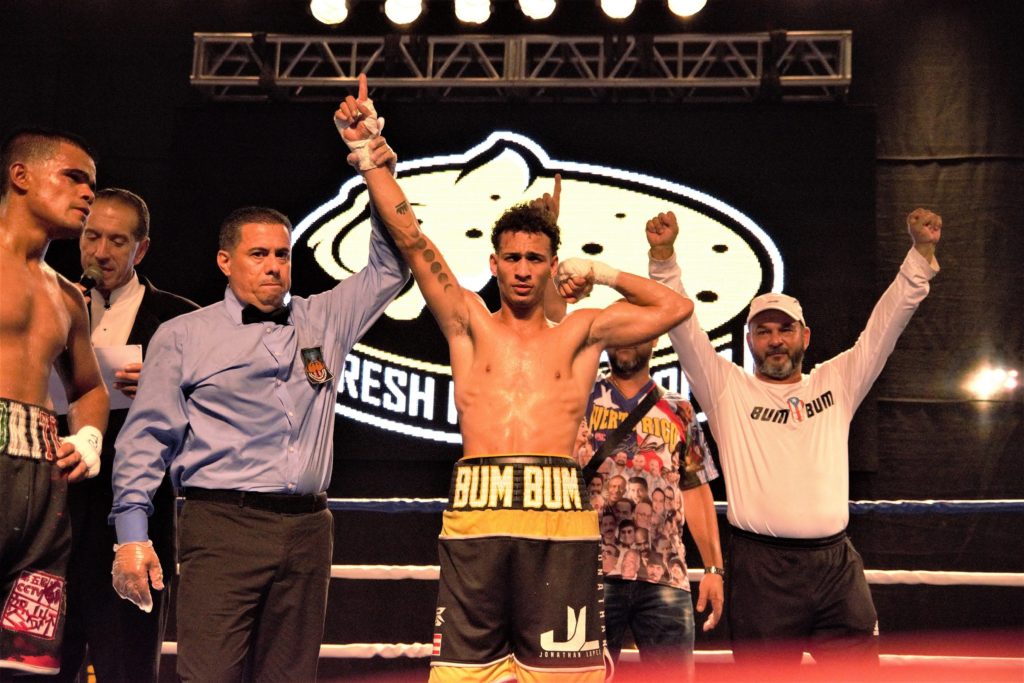 Humacaeño Jonathan 'Bum Bum' López (7-0-1, 4 KOs), will face Filipino Jobert 'Little Pacman' Álvarez (20-2-2, 7 KOs) this Saturday, March 14 at Pedro 'Perucho Park 'Cepeda de Cataño, Puerto Rico.
 
The fight is agreed for 10 rounds and the weight of 118 pounds.
 
Àlvarez, who is a teammate of the International Boxing Deferation (IBF) world Super Flyweight Champion Jerwin Ancajas, and World Boxing Council (WBC) Super Flyweight World champion Juan Francisco 'El Gallo' Estrada.
 
Lopez had an outstanding career in amateur boxing, where he won a bronze medal at the World Youth Boxing Championship in Ukraine, the Golden Belt in Ecuador, the National Champion of Puerto Rico for seven years, amongst other achievements.
 
In his relatively short professional boxing career, the Humacaeño, already has notable victories over the interim World Boxing Association (WBA) World Champion José 'Torito' Rodríguez and the Argentine prospect Carlos Carlos Luis Sardinez.
 
"I fight against those who put me in front," Lopez said, "If it's Naoya Inoue (WBA and WBC Bantamweight World Champion) or the anyone my promoter Juan Orengo says, I accept and go to war."
 
On his opponent, nicknamed 'Little Pacman', López suggested that, "I hope he comes well prepared because I already had my first 10-round fight and I feel confident to fight for 15 rounds if they let me. I want to continue demonstrating that I am worthy of great opportunities and that better than facing a world-class opponent in front of my people. "
 
"My opponent has good qualities because he knows how to box and look for the fight, but I have no problems with that. I am also good at it and expect a war. This will get really good, "Lopez said.
 
In another fight, the Abimael 'Manos de Piedra' Ortíz, will face the former world champion Rodrigo Guerrero, of Mexico, in another war for the vacant World Boxing Association (WBA) Fedelatin title at the weight of 122 pounds.
 
Ortíz (8-0-1, 4 KOs) already has victories over former champions Chris Avalos of California and Alexis Santiago of Arizona, and over the Olympian and undefeated at the time of the fight Janthony Ortíz.
 
Guerrero (26-9-2, 16 KOs) was a 115-pound world champion by beating Raul Martinez in a rematch. He has defeated the previously undefeated Fernando Vargas, Daniel Rosas and Takahiro Shigee. Guerrero has defeats over former world champions Vic Darchinyan, Stuart Hall, Juan Alberto Rosas and Daiki Kameda.
 
Pun The Punisher 'Steven Ruidiaz (5-0, 4 KOs) of Canovanas, will clash with Emmanuel' Tito 'Morales (10-4, 6 KOs) of Cidra, in a 6-rounder agreed at 135 pounds.
 
Ruidiaz, who has the backing of Félix 'Tito' Trinidad, has notable victories over Ángel 'Memito MVP' López and Jeffrey Ramos.
 
For his part, the experienced Morales, has faced better opposition and has lasted the distance in exciting fights against world-class prospects. In his last fight, Morales fell by decision to the undefeated Arturs Ahmetovs of Latvia, in an exciting fight that was broadcast live on Boxing Telemundo.
 
The event, called 'TeRRoR 4 Night', is promoted by Fresh Productions Boxing.

Photos by Bryan Quiles / Fresh Productions Boxing
Please follow and like us: