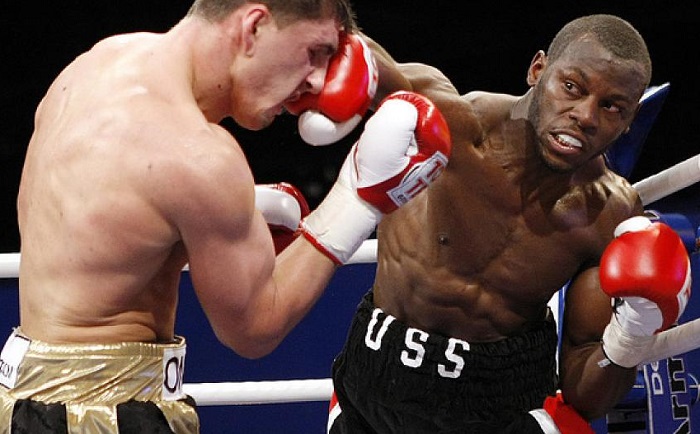 Steve 'USS' Cunningham traveled from his home in Philadelphia to Germany to defend his International Boxing Federation (IBF) Cruiserweight World Crown against Marco Huck at the Seidensticker Halle in Bielefeld on the 29th December 2007
In the opening minutes of the battle it appeared that Huck and the fans would have much to cheer about as the Serbia ex-pat landed some vicious shots, shaking Cunningham in both the first and second rounds. 
At this point the contest appeared to be shaping up into the toe-to-toe war that Huck and his team wanted.
However, Cunningham was way more experienced at the elite level, and stayed calm and used his head to get through Huck's early assaults. 
Cunningham's intelligent approach lead to him turning the fight more to his advantage after catching and shaking Huck with a big right in the fifth. 
The German bounced back to take the sixth and for a fleeting moment it appeared as if the momentum was back with Huck, but in round seven Cunningham shifted up a gear. 
The pace of the fight had a detrimental affect on Huck, who slowed considerably as well as began bleeding for the left ear, whilst at the same time Cunningham just seemed to be growing stronger and stronger, letting rip with pin point accurate shots.
The next three rounds saw the the good ship 'USS' Cunningham cruise away, whilst Huck continued to visibly fade. 
Huck gave everything he had in reserve in the eleventh in a desperate bid to turn the tide, yes, without doubt he won the round, but in doing so depleted his energy reserves to the point of no return.
A clearly exhausted Huck was slow to leave his corner for the twelfth and final round.
As the final stanza progressed Huck's legs collapsed beneath him in a clinch, then once back on his feet on the restart, Cunningham let rip with a massive left uppercut that sent Huck staggering across the ring. 
Cunningham followed, with a double handed attack, landing massive blow after blow, somehow Huck stayed on his feet, just, so his trainer, Ulli Wegner, threw a towel into the ring to save his fighter from further punishment.
Referee Marlon Wright halted the contest on the 1 minute 56 seconds mark of the 12th Round.
Please follow and like us: