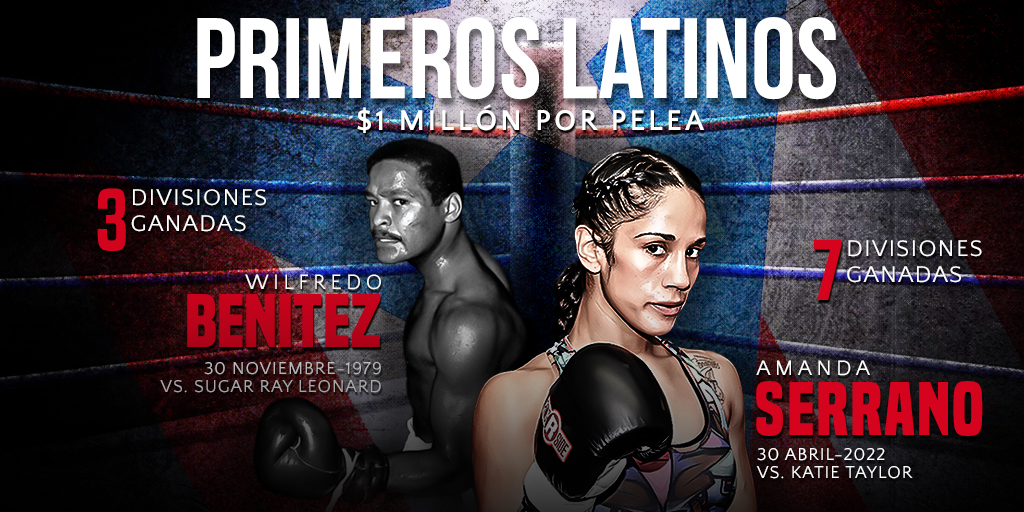 Puerto Rico is at the forefront of millionaire brands in professional boxing.

The youngest world champion in boxing history, the legendary Wilfred 'El Radar' Benítez, from Puerto Rico, was the first Latino to win a million dollars for a fight, this when he faced the American 'Sugar' Ray in a losing effort. Leonard on November 30, 1979 at Caesars Palace in Las Vegas.

For the first time in its 140-year history, on April 30, New York's famous Madison Square Garden, will have an event headlined by women's boxing, when seven-division world champion and current unified 126-pound champion Amanda Serrano, from Puerto Rico, faces undisputed 135-pound champion and London 2012 gold medalist Katie Taylor of Ireland. 

Tickets available at www.ticketmaster.com.

Amanda will seek to be the first undisputed champion of Puerto Rico under the four world-renowned organizations (WBO, WBA, WBC, IBF), a feat that has not been accomplished by the men's branch of the Puerto Rican island either.

Each fighter will receive the guaranteed sum of one million dollars, plus a percentage of sales through the pay-per-view (PPV) system.

"There are more and more achievements that can be achieved with focus, discipline and dedication," said Amanda Serrano.

"Being together with Benítez as the first Latinos and Puerto Ricans to earn a million dollars for a fight is something I never imagined and this is another reason to motivate women who want to progress in this tough sport."

"Being able to represent Latinas and women in general to open paths is something I will always sacrifice for. Katie Taylor and I will be the first fighters to collect that sum of money and with the favor of God, more opportunities will appear for those who have been rising.

"When I retire, I will be able to say that I tried my best to bring about positive changes for women's boxing. To think that I am part of this great fight and the impact that we are generating, I can only say that God's timing is perfect.

AMANDA SERRANO SE CONVERTIRÁ EN LA PRIMERA LATINA EN GANAR UN MILLÓN DE DÓLARES POR UN COMBATE DE BOXEO PROFESIONAL
Brooklyn, Nueva York – Puerto Rico se encuentra a la vanguardia en cuanto a marcas millonarias en el boxeo profesional se refiere.
El campeón mundial más joven en la historia del boxeo, el legendario Wilfred 'El Radar' Benítez, de Puerto Rico, fue el primer latino en ganar un millón de dólares por un combate, esto cuando enfrentó en causa perdida al estadounidense 'Sugar' Ray Leonard, un 30 de noviembre de 1979 en el Caesars Palace en Las Vegas.
Para el próximo 30 de abril en Nueva York, el Madison Square Garden en sus 140 años de trayectoria, tendrá su primer evento estelarizado por el boxeo femenino, cuando la campeona mundial de siete divisiones y actual campeona unificada de las 126 libras Amanda Serrano, de Puerto Rico, enfrente a la campeona indiscutible de las 135 libras y medallista de oro Londres 2012 Katie Taylor, de Irlanda. Boletos disponibles en www.ticketmaster.com.
Amanda buscará ser la primera campeona indiscutible de Puerto Rico bajo los cuatro organismos reconocidos mundialmente (OMB, AMB, CMB, FIB), hazaña que tampoco ha sido cumplida por la rama masculina de la isla borinqueña.
Cada peleadora cobrará la suma garantizada de un millón de dólares, más porcentaje de ventas por el sistema de 'pague por ver' (PPV).
"Cada vez son más los logros que se pueden alcanzar con enfoque, disciplina y dedicación", dijo Amanda Serrano.
"Estar junto a Benítez como los primeros latinos y puertorriqueños en ganar un millón de dólares por una pelea es algo que nunca imaginé y esto es otra razón para motivar a las mujeres que quieren progresar en este rudo deporte".
"Poder representar a las latinas y a las mujeres en general para abrir caminos, es algo por lo que siempre me sacrificaré. Katie Taylor y yo seremos las primeras peleadoras en cobrar esa suma de dinero y con el favor de Dios, aparecerán más oportunidades para las que vienen subiendo".
"Cuando me retire, podré decir que traté con todas mis ganas de lograr cambios positivos para el boxeo femenino. Pensar que soy parte de esta gran pelea y del impacto que estamos generando, solo puedo decir que el tiempo de Dios es perfecto".
Artes por Jay Rivera / Feenix Design
Please follow and like us: