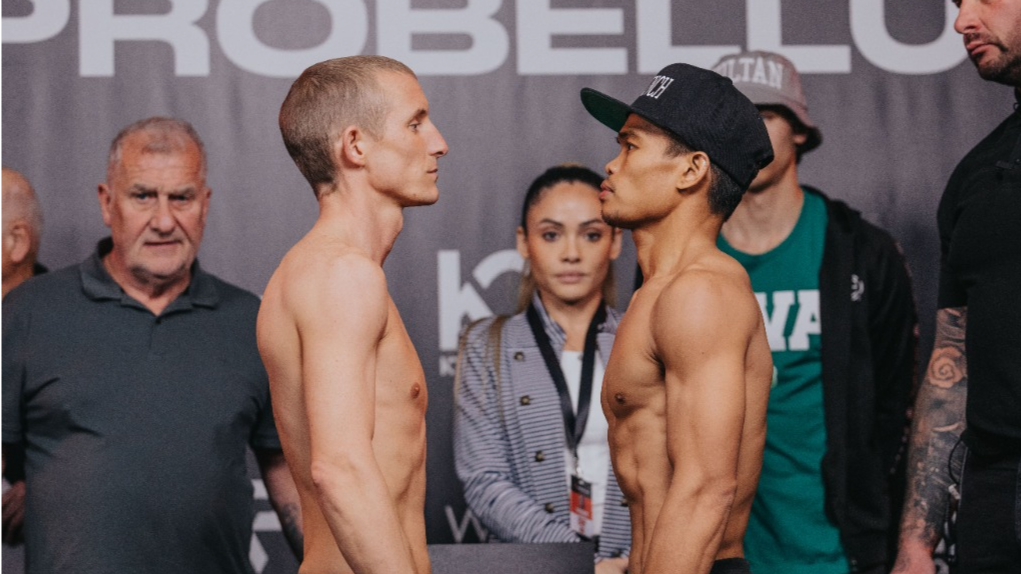 Paul Butler and Jonas Sultan squared off for the final time ahead of their WBO interim world bantamweight title clash in Liverpool. 
Sultan has stepped in as a late replacement for John Riel Casimero to face local hero Butler at the M&S Bank Arena in the headline fight at Probellum Liverpool on Friday night. 
Sam Maxwell came face to face with Alejandro Meneses ahead of their scrap for the IBO super-lightweight title with Peter McGrail and Jazza Dickens among those who also hit the scales at the Hilton Hotel.
The packed card will be shown live, free and exclusive on Probellum.com with the opening bout of the night due to start at 4:30pm. 

MAIN EVENT 
WBO INTERIM WORLD BANTAMWEIGHT TITLE
Paul Butler (33-2) 117.8lbs
Jonas Sultan (18-5) 117.6lbs

8 Rounds Super Bantamweight Contest 
Peter McGrail (3-0) 124.4lbs
Uriel Lopez (15-17-1) 124.2lbs
 
IBO WORLD SUPER LIGHTWEIGHT TITLE
Sam Maxwell (16-0) 138.8lbs
Alejandro Meneses (15-5) 139.2lbs
 
10 Rounds Featherweight Contest 
James Dickens (30-4) 126lbs
Andoni Gago (25-4-4) 125.2lbs
 
8 Rounds Super Middleweight Contest 
Rocky Fielding (29-2) 175.4lbs
Timo Laine (30-17) 171.4lbs
 
4 Rounds Bantamweight Contest 
Will Cawley (1-0) 119.6lbs
Marius Vysniauskas (2-12) 117.6lbs
 
4 Rounds Super Featherweight Contest 
Harry Kinsella (Debut) 130lbs
Christian Narvaez (16-38-6) 131lbs
 
4 Rounds Super Bantamweight Contest 
Joe McGrail (2-0) 122lbs
Mohammed Alwarith (0-2) 121.6lbs

4 Rounds Lightweight Contest 
Frankie Stringer (Debut) 136lbs
Simas Volosinas (7-102) Weighs in on day
 
4 Rounds Super Featherweight Contest
Steven Cairns (2-0) 133lbs
Jose Hernandez (4-41-1) 127lbs

1630 
6 Rounds Bantamweight Contest 
Blane Hyland (5-1) 118lbs
Stephen Jackson (1-15) 117lbs
Please follow and like us: