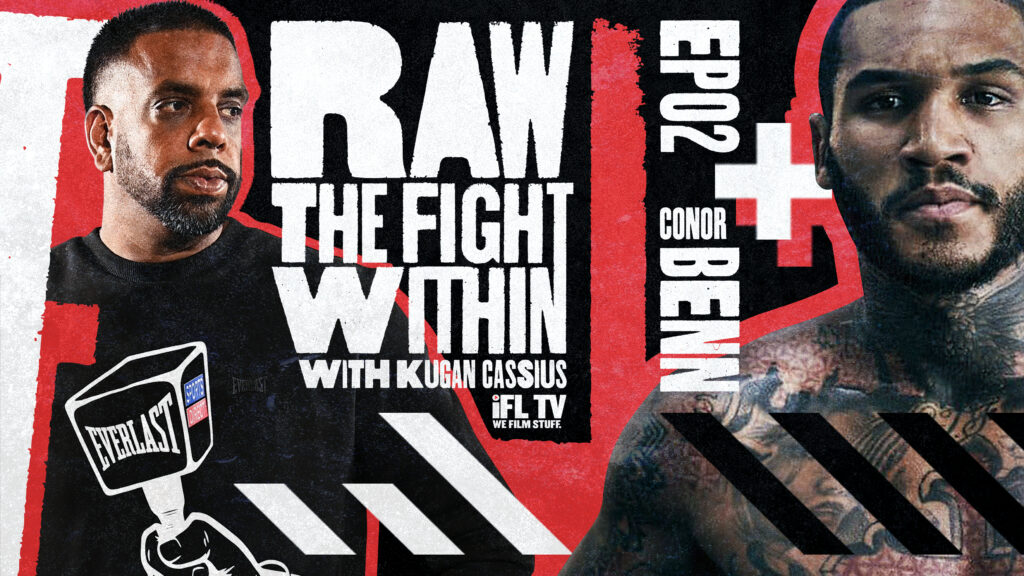 Episode two features Benn opening up about the influence of his father, former boxer Nigel Benn
The unbeaten star also discusses fighting fear 
The first instalment of RAW: The Fight Within, with Fabio Wardley, is available to download now
Conor Benn says there are times he has needed to develop a chip on his shoulder, even if it's manufactured, in order to ensure he approaches a fight in the right way.

Speaking to RAW: The Fight Within, a brand-new podcast hosted by iFL TV's Kugan Cassius, the unbeaten welterweight, 25, highlighted some of the difficulties he has had to overcome in his life, including moving away from his family, while also stating why he believes the ever-growing influence of social media is causing more harm than good.

Benn, son of boxing legend Nigel, is confirmed to meet Chris Eubank Jr at London's O2 Arena in October, a contest which will undoubtedly generate huge media coverage given their fathers' iconic rivalry in the 1990s.

The younger Benn has spoken about preparing himself for battle.

"I think I'm quite a chilled person, no other fighters get to me," he told RAW: The Fight Within.

"I'm not really fiery, but then I am. It depends on what version of me you meet. Is it the version in fight week? Is it the version of me in the middle of camp? Is it now? But then it's like, has he got split/mixed personality disorder or something? It depends at what stage you meet me.

"I take my work very seriously and when it's anything to do with my work, I apply myself and I'm in my zone, I get in my zone. If I don't have a chip on my shoulder, I'll make myself have a chip on my shoulder. If that's what gets me out of bed, that's what gets me out of bed. A happy fighter is a dangerous fighter, but even when I'm not too happy, I'm still dangerous. If I have to develop a chip, even if it's manufactured, I will do that."

Benn's story to date is an interesting one. He has followed in his famous father's footsteps by becoming a hugely talented boxing star. However, the path he has taken hasn't been without its obstacles.

After growing up in Spain, Benn moved to Australia where he boxed as an amateur before leaving the country – and his family – to join the professional ranks.

"Leaving my family was really hard," he said. "I feel like that affected me a lot more than I think and everything else has become a blur. At the age of 25 I've taken on my own family, I've had to deal with my own demons, which there are plenty of. I have my own family, my own baby and my own wife, who I provide for and look after. I also try to be a good role model, it's all mad. And then obviously I have my whole family in Australia. Half of my family here I didn't grow up with, so I didn't really know them."

The evolution of social media continues to impact not just sport, but wider society as a whole, and having previously been a fan of the platforms, Benn has started to see a more dark and sinister side of late.

"Social media is f***ed, it's not good for anyone," he said. "Because if people want to watch me fight, they know where to buy tickets, they know to tune into DAZN, they know to tune into the Matchroom website.

"But then when you start talking about social media, people are toxic on there. You have people living this lavish life that others want to be like. People may think I have a perfect life. I have a beautiful family, a beautiful wife, but I'm still probably battling the same demons as they are. But I live a "perfect" life, so it makes people envious and jealous. It creates toxic vibes and then you have haters and trolls. Then you have people who are suicidal because of social media, so it's like what has social media become? What is social media about? For me, it's a way to interact with my supporters but I feel like now the bad is starting to outweigh the good."

You can hear the full interview with Benn on episode two of Raw: The Fight Within, available via all major streaming platforms and iFL TV's YouTube channel, from Monday August 15.

The series, launched last week, kicked off with undefeated heavyweight Fabio Wardley telling his story, and other guests already confirmed to feature in the coming weeks include world champions Sunny Edwards and Ebanie Bridges, along with Big John Fisher, father of Johnny Fisher, who faced Michal Reissinger in Sheffied last weekend.

Raw: The Fight Within will be available to download via Apple, Spotify, Amazon, Google, Podbean, Pod.co, Acast, Listen Notes, Podbay FM, Audible, Deezer, Podchaser, iHeart and Player FM.

It will also be accessible via iFL TV's YouTube channel.
Please follow and like us: