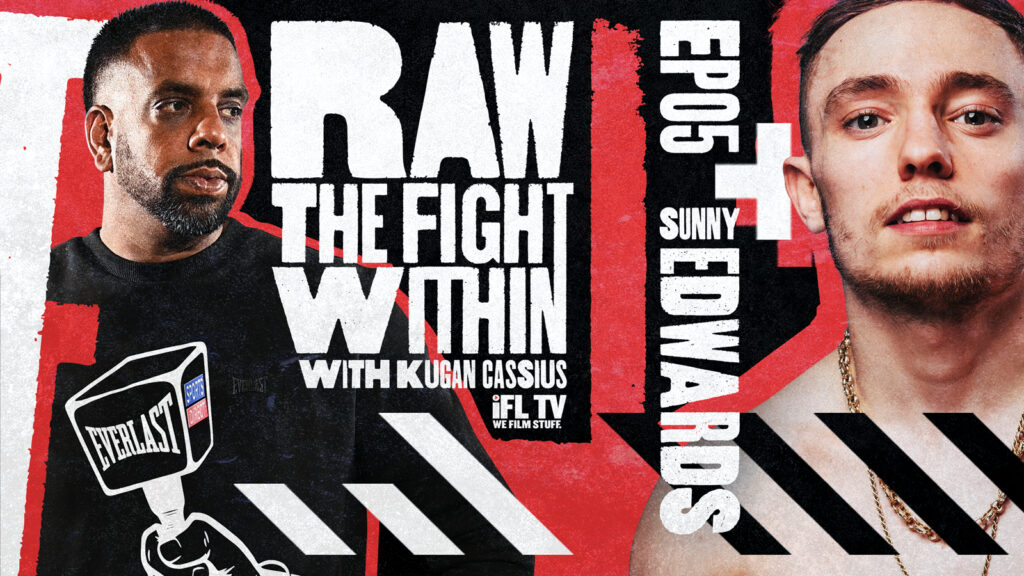 Unbeaten Edwards is the latest boxer to guest on new podcast, RAW: The Fight Within

He speaks to Kugan Cassius about his early life away from the ring and future hopes

IBF flyweight world champion Sunny Edwards has spoken about his father's influence on his career, as well as his hopes of creating a lasting legacy, in the latest instalment of boxing podcast RAW: The Fight Within.

Edwards is the latest figure from the sport to sit down for an in-depth chat with Kugan Cassius, founder of boxing YouTube channel iFL TV, and in an open and lengthy discussion, the unbeaten champion opens up on a range of subjects.

Edwards became a world champion in 2021 when he defeated South African Moruti Mthalane, and he has since gone on to defend his title on two separate occasions, most recently in March when he overcame Muhammad Waseem in Dubai.

His older brother, Charlie, also became a world champion after turning professional, and the success of the pair, according to Sunny, owes much to the dedication of their father.

"I was lucky enough that my dad took boxing seriously with us from a young age," Edwards tells RAW: The Fight Within. 

"When we look back at it, there's no surprise me and my brother won world titles at all. We've been training like pros since we were nine and 10 years old, six days a week, maybe even sometimes on a Sunday, and running for six miles. We were training like pros from very young so it's no wonder we won everything and we've always been good.

"What kids have a dad who didn't mind throwing away his business because he was obsessed with boxing? He put that first over everything and pretty much made himself broke doing it. He sold all his cars. His business wasn't running because he used to be there until 6pm and then he was picking us up from school, taking us to boxing and then we'd get home at 7pm. He was spending all his money up and down the country in hotels, so in some ways we were hand-gifted that. 

"There's no surprise me and my brother are at a decent enough level where we can probably always win world titles depending on the opposition because we're that good. We've been built for this."

During the interview, Edwards also discusses his early life, and how he was affected by the split of his parents at a young age.

"I had things that maybe changed and altered me growing up, my parents breaking up and the family home being sort of a bit distorted," he says.

"I had four years with my dad and four years with my mum, and when I was with one I wasn't really with the other, so maybe I went into myself a bit and I was under the impression that my voice didn't matter. If I had something that was on my mind, I'd just keep it to myself and get on with it. From a young age I didn't really have in my eyes, although I probably did more than I realised, the safe space to be too vulnerable.

"I know that sounds quite mad but from the age of around 11, I was very emotional, I was a very teary kid up to the age of 11. I was a mummy's boy, then I guess when they broke up and my mum left the house and I was with my dad, I kind of went into myself."

Edwards has enjoyed a brilliant career to date. As it stands, he remains undefeated in 18 bouts and the future looks extremely bright, with some big fights potentially on the cards.

Naturally, as a world champion, he enjoys his life outside the ring. But it's what occurs inside the ring which continues to drive the talented fighter.

"I could go broke tomorrow and I could still exist, I could struggle, I could scrimp, save and lead a low-needed life," says Edwards.

"I know I can, and I love that. I wouldn't lose my head if I lost all the material sh*t. If people started looking at me differently because I didn't have any money anymore, fine, so be it. For me, it's never been about that. I want to create a legacy. I want people to remember what I did and when I did it and who I did it with. I want to build something. The fights that we're talking about now, and the level of conversations, the planned routes of putting fighters together which is looking likely, I could be a superstar in boxing in my eyes with the right next three or four fights."

You can hear the full interview with Edwards on episode five of Raw: The Fight Within, available via all major streaming platforms and iFL TV's YouTube channel, from Monday September 5.

The series, which launched at the start of August, has already featured interviews with with Fabio Wardley, Conor Benn, Ebanie Bridges and Big John Fisher.

Raw: The Fight Within will be available to download via Apple, Spotify, Amazon, Google, Podbean, Pod.co, Acast, Listen Notes, Podbay FM, Audible, Deezer, Podchaser, iHeart and Player FM.

It will also be accessible via iFL TV's YouTube channel.
Please follow and like us: