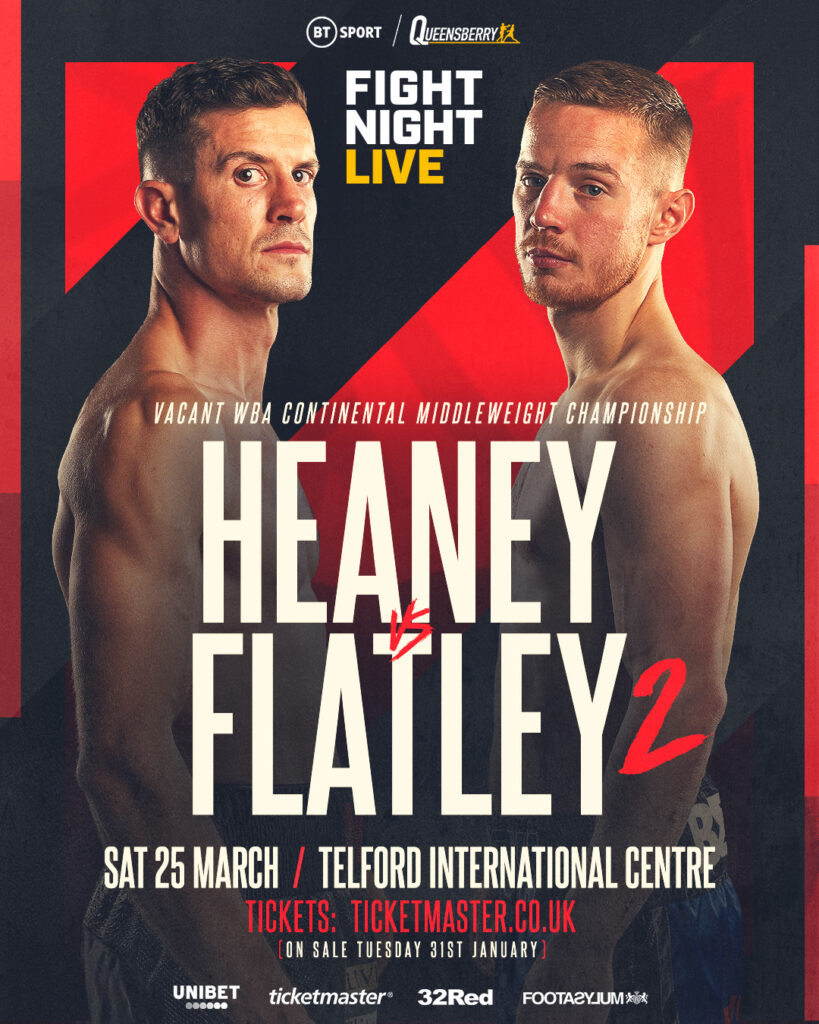 NATHAN HEANEY WILL rematch Jack Flatley with the vacant WBA Continental middleweight title at stake and Andrew Cain will defend his WBC International Silver super bantamweight title against Ionut Baluta when Queensberry make a return to the Telford International Centre on Saturday March 25, live on BT Sport.

Stoke hero Heaney (16-0, 6 KOs) and Bolton man Flatley (20-3-1, 4) shared five rounds of action at the AO Arena in Manchester back in September of last year on the undercard of the Joe Joyce-Joseph Parker heavyweight collision.

What appeared to be a close run affair was aborted in the fifth round on the advice of the doctor following a head clash that left Heaney with a severe cut above his right eye. The fight went to the scorecards and Heaney was judged to have been ahead by all three judges.

Liverpool KO-artist Cain (10-0, 9) won his belt via a first-round stoppage of Pablo Ariel Gomez in Telford last April before defending at York Hall against Luis Moreno with the same outcome. A shoulder injury ruled the 26-year-old out of November action but he is set to go again against his toughest opponent to date in Baluta (15-4, 4), the Romanian based in Bushey.

A winner over Irish world champion and Olympian, TJ Doheny and David Oliver Joyce respectively, Baluta went on to fight a close run thing with Michael Conlan before winning the WBC International title by defeating Brad Foster in May of last year.

He then challenged for the vacant European title against Liam Davies in November, with the Telford man prevailing over 12 rounds.

The night that will also see the return of former European super bantamweight champion Jason Cunningham (31-7, 7) to the ring.

"I am really looking forward to it and I suppose it will be dubbed 'unfinished business'," said the 33-year-old Hitman Heaney. "There are questions that need answers, with them thinking they were going to beat me in the last fight and me believing the complete opposite.

"I am training hard and looking forward to being back in Telford with a great crowd," added Heaney, who explained that his apparent unwillingness over the prospect of a rematch on social media in the days after the original fight was due to a feeling of being railroaded by Flatley's team.

"No, that is not the case. Once people try to force my hand into doing something I immediately think I want nothing to do with them. It was his second and others popping up saying things and, for me, once that happens, I have zero interest in people.

"But, after speaking to George (Warren) it is an interesting fight and when it is on our terms rather than theirs, that is when I become interested. When people try to force it, it doesn't interest me at all, but now I am right up for it."

Former English super welterweight champion and European title challenger Flatley, added: "I'm made up and this fight is what I wanted after how it ended last time. I felt like I was getting into the fight, and it ended like it did, so I am buzzing it has been made again.

"Being honest, it was close, and I thought it was 50-50 when it got stopped. I'm not saying I was in front, but they had him winning every round.

"I didn't think this fight was going to happen again and I don't think, deep down, Nathan really wants it. He pretty much said on social media that he wasn't going to fight me, so I am quite surprised, but made up it is happening.

"I don't know why he has changed his mind and I feel like he might have been pushed into it, or he might have felt pressured by what's gone on social media and stuff. I don't know the reason, but I don't really believe he fully wants to have the fight.

"I think there could probably be an easier option than me, although I'm not saying I'm a world-beater. I want to beat Nathan and then possibly be looking for a shot at the British title after that."

The 33-year-old Cunningham's winning run at the weight was ended by Zolani Tete at Wembley in July of last year and Cunningham now gets back on the title trail with a fight for the vacant WBO Intercontinental super bantamweight championship.

Cunningham was originally set to attempt to reclaim his European title from Liam Davies, but injury to the Telford man means the fight is now subject to delay.

Also on the card, Raven Chapman (5-0, 2) will make a first defence of the WBC International featherweight title she won by defeating Jorgelina Guanini in Manchester back in September. The Omen will take on the Czech Lucie Sedlackova (15-1-1, 6) in Telford.

Heavyweight star of the future Moses Itauma will have his second professional fight over four rounds, while Liverpool super bantam Brad Strand (9-0, 3) will hit double figures as a pro with an eight-round assignment.

"Settling the score with Jack Flatley is the right fight for Nathan Heaney and I think we can expect fireworks on the night," said promoter Frank Warren. "When you have an unsatisfactory ending for both parties in an entertaining fight it is always best to do a rematch in the hope of a conclusive finish.

"Jack's and his team will fancy the job, while Nathan needs to maintain his winning streak in order to realise his dream of fighting for a major title at Stoke City FC. This fight will deliver the goods and I am looking forward to the atmosphere created by the best crowd in boxing.

"I think we have got a humdinger of a fight in prospect when Andrew Cain takes on Ionut Baluta. Andrew comes in off two spectacular first round stoppages and if he can stop Baluta it will send shockwaves across the division. I am also excited to see Andrew's teammate Brad Strand move towards title contention in what will be his 10th fight as a pro.

"Unfortunately, Jason Cunningham's attempt to regain the European title is delayed due to injury to Liam Davies, but Jason gets the opportunity to put himself firmly back in the mix with a fight for the WBA Continental super bantamweight title.

"Barring any mishaps or injuries on January 28, the fans in Telford will also be treated to seeing the second professional fight of future heavyweight champion Moses Itauma."

Midlands Area welterweight champion Owen Cooper (7-0, 2) from Worcester will be in eight-round action, Telford super lightweight Macaulay Owen (5-0, 1) will fight over six.

While Natty Ngwenya (1-0) makes his Queensberry bow in a four-rounder, Ilkeston super welterweight Jimmy Smith will make his professional debut over four rounds.

Tickets for Heaney vs Flatley and Cain vs Baluta at the Telford International Centre on Saturday March 25 go on sale at 11am on Tuesday January 31 available from Ticketmaster.co.uk.
Please follow and like us: