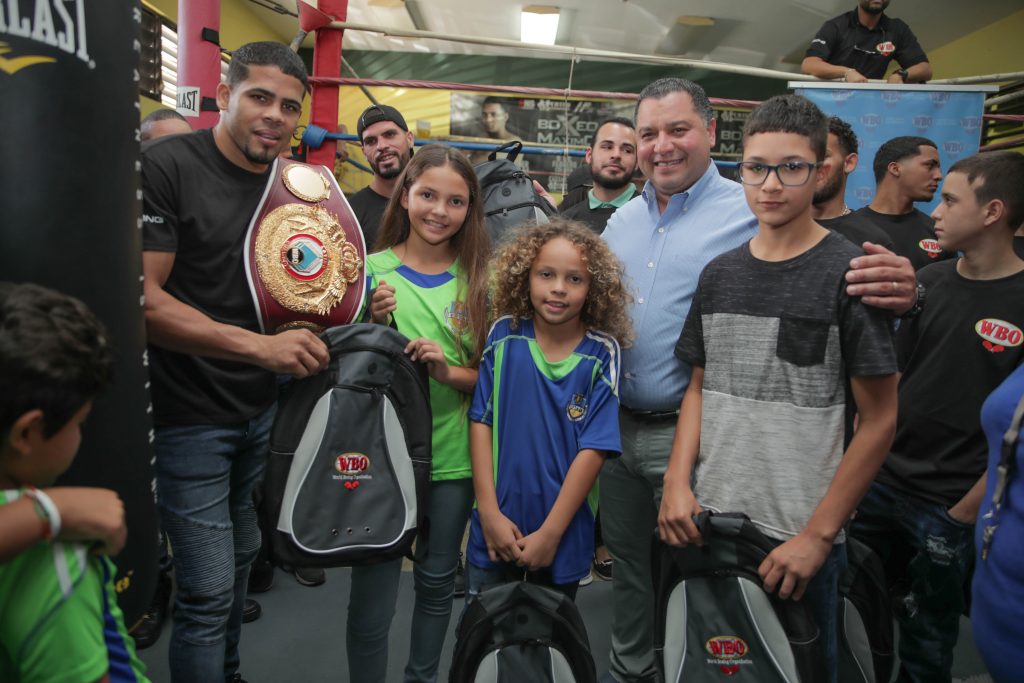 Aguas Buenas, Puerto Rico – With its consistent social commitment, the World Boxing Organization (WBO), chaired by Francisco "Paco" Valcárcel, Esq, and through the program WBO Kids Drug Free, brought joy and gifts for the children of the 'Educational Center: Play, Explore & Learn' and 'Hacienda Don Antonio'. Both centers are located in the city of Aguas Buenas.
During the busy event that took place in the municipal boxing gym of Aguas Buenas, the children received backpacks with school supplies and sporting goods. Also, motivational speeches were given, bicycles were raffled, and lunch was served for them.
"We have no words for what the WBO did for our city. It was the second time this year our children saw the WBO visiting and helping us. In the future, this will reflect on their lives. Our gratitude is infinite. Thanks Paco, for this gesture of love", said the mayor of Aguas Buenas, Javier García Pérez.
"Thanks to the mayor for putting the sport of his city first. These activities serve to motivate, but the most important thing is that we have to be consistent in maintaining that. This isn't done overnight; this is a process that we work with a lot of love and in the long term, we see extraordinary results", Valcárcel said.
The WBO Interim Latino Heavyweight champion Víctor Bisbal, WBO Latino Jr. Welter Champion Jean Carlos "Lobo" Torres, WBO/NABO Flyweight Champion Jonathan "Bomba" González, and WBA World Featherweight Champion Jesús Rojas participated as volunteers, along with prospects Yomar Álamo, Emmanuel "Tito" Morales, Alfredo "El Salsero" Cruz, Patrick Cora and John Karl Sosa. Amateur boxing was represented with the presence of Alexamil Cotto, Tatiana Ortiz, Ryan Montes, Ramón Montes, Kenneth Molina, Ivan Silva, Yadel Hernández, Gabriel Menard, Joshua Carrión, Carlos Rivera, Carlos Díaz, Ángel Javier, Christian Rivera and Adrián Ortiz.
Also in attendance was manager Orlando Piñero, trainers Álex Caraballo, Jesús "Tongui" Ortiz, Yoel "Yowy" González, Félix Pagán Pintor, Armando Álamo, Efraín Román, Eliezer González and Edwin Delgado.
The professional boxing referees Luis Pabón, José Hiram Rivera, Melva Santos and Roberto Ramírez,Jr were also present, as well as professional boxing judge Luis Ruiz. From the WBO, other than Valcárcel, legal advisor Gustavo Olivieri,Esq, treasurer Adolfo Flores, and the Vice Chairman of the Championship Committee Enrique Mendoza, Esq were also in the activity.
WBO Kids Drug Free is an international program aimed at children and young people in order to carry a message of prevention of drug use and to motivate them to continue studying and using sports as a tool to stay on the right path, as well that support causes directed to those in need in order to contribute to a better quality of life.
Photos and video by Victor Planas / WBO
Please follow and like us: