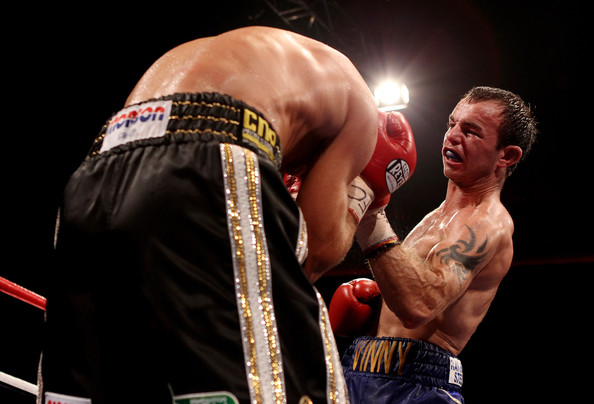 I had the immense pleasure of not just being ringside for the Kevin Mitchell versus John Murray World Boxing Organisation (WBO) Inter-continental Battle Royale at the Echo Arena in Liverpool on the 16th July 2011, but also travelling from London to the venue, and back, with Kevin, Jimmy and Mark Tibbs and Shaun Hogg so please forgive me if my review sounds a little biased.
What an atmosphere, the Echo Arena seemed to be packed to the rafters with very, very vocal Mancunians, all screaming out their support for their main man Murray.
The fight itself see Mitchell making the better start, constantly landing pin-point accurate shots, particularly his left-hand uppercut, which was just sublime.
Mitchell again made a strong start to the second round and looked well in control of the round until a fierce right-hook from Murray rocked Mitchell. Murray, spurred up from the effect of the hook, let rip with a barrage of ferocious shots, to turn the round around and into his favour.
In the third Mitchell, constantly tried to stay on the outside, almost certainly sensing he was being dragged into a toe-to-toe war, which would suit the Mancunian more, so the Dagenham man started to move around the ring and box behind the jab, however as the round progressed Murray cut off the ring and backed Mitchell up before firing a series of massive shots.
Murray kept the momentum and was without doubt the aggressor in the fourth, landing more punches than his Mitchell, however it was Mitchell who was landing the most accurate shots.
The relentless power-punches from Murray seemed to be taking its toll on Mitchell in the fifth.
However the sixth was another matter altogether, as Mitchell really began to show his boxing ability as he switched tactics to a box and move game plan.
Mitchell let rip with sensationally accurate combinations in the seventh and just as the round was coming to it's conclusion let rip with huge right hand, left-uppercut combination that rocked Murray to the core and only the bell saved him from being knocked out.
Smelling victory, right from the opening bell for the eighth stanza Mitchell went in hard and fast, Murray looked out on his feet but managed to find the strength to fire a vicious left, Mitchell's response was a huge left to send the Mancunian down to the canvas.
Murray, made the count but was very shaky on his feet and was lucky to be able to continue, or was he, as seconds later on the restart Mitchell stepped in and let rip with a scintillatingly fast, powerful and more importantly accurate combination that left Referee Richie Davies no option other than to step in and stop the fight.
Please follow and like us: