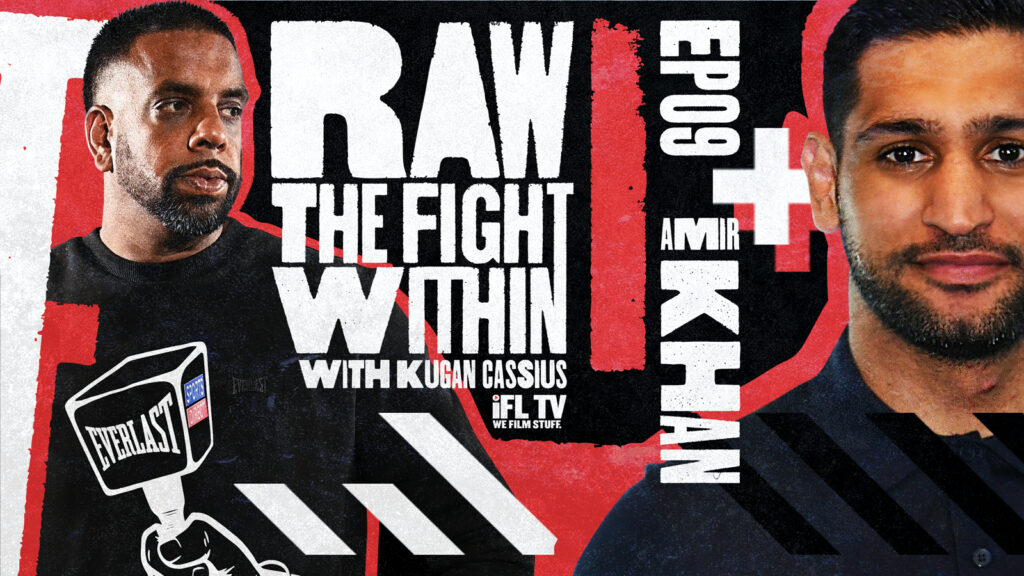 In an exclusive interview with iFL TV, the former world champion speaks openly and honestly about life in the spotlight

Amir Khan has spoken about the difficulties he experienced while carving out a successful boxing career from an early age in the public eye.

Khan is the latest guest to feature on boxing podcast RAW: The Fight Within, hosted by iFL TV's Kugan Cassius, and in an insightful interview, the former world champion talks about an array of subjects, including being bullied at school, enjoying more boxing success than any other Asian and mistakes made during his marriage.

Having officially retired from boxing after suffering defeat to compatriot Kell Brook earlier this year, the Bolton-born star's career speaks for itself, with Khan securing a silver medal at the 2004 Olympics in Athens at the age of 17 before going on to become unified light-welterweight world champion in 2009 and WBC Silver welterweight champion in 2014.

Khan explains how becoming a household name at such an early age came with problems.

"I was bullied when I was young, I remember getting bullied by boys a couple of years above," he tells RAW: The Fight Within.

"They knew I was a boxer and they always wanted to have a go at me. I was getting in the newspaper in those days, a young champion, and these guys would have the newspapers in the classroom and keep throwing them at me, saying we can beat you up. I was young and I remember it wasn't one on one, I had six, seven, eight kids chasing me around school trying to bully me.

"But then as I got older, I started to stand my ground a little bit. One thing about bullies is if you let them bully you, they'll always keep on bullying you. But if you stand your ground, even if you get beaten up, they respect that and then the bullies leave you alone."

In an open and honest discussion, Khan also admits to cheating on his wife, and praises her for standing by him in such difficult times.

"When I had that problem with my missus, I was fighting, fighting, fighting, but I knew I was losing because deep down she had done nothing wrong and I was just digging myself a deeper hole, and that's what made me realise that I needed to stop because I knew if I kept saying this and doing that, I was losing more friends and losing respect for myself," he says.

"I thought people are going to start hating me because out in the open, the truth is there but I'm going against the truth. I'm going against everybody and I'm saying X, Y and Z and digging myself a deeper hole. One of the best things I did then was going into I'm a Celebrity where I was left alone, I was focused on what I had to do and where I wanted to be in life. I might have burnt a lot of bridges and lost a lot of friends, but you know what, it was a wake-up call for me.

"I think I needed it at that time because when you're in a position where you're loved by so many people, you feel invincible. You think what I say goes and you have so much power by having a social media tool. You end up using that the wrong way and that's what I did that time.

"I had to go through all that at the time because I was getting caught messing around with other women, I was having stories sold on me. I was young at the time. I was proper boisterous and I was getting myself into trouble at the time, blatantly. I was trusting people who would later, in a way, f**k me over, and look, it takes a strong woman to stay with a man like that. I did do wrong, I'm not going to lie, but I was young, boisterous and silly. At the same time, I didn't want to miss out on my youth because I knew those days weren't going to come back again."

Khan is understandably proud of what he achieved inside the ring, and he believes his appearances on various television shows over the years has allowed the public to see a different side to him.

"I'm the only Asian who's got this far in British boxing and in British world sport, I don't think there will be another Pakistani-Brit who will go this far," he tells RAW: The Fight Within.

"I had all that pressure, and then obviously being public with my marriage, being public with my kids, having a TV show, being on I'm a Celebrity, I was reaching an audience which isn't just boxing fans, but also outside.

"Now, my status has changed because they don't just see me as a boxer, they see me as a celebrity, which I didn't really want, I just enjoy doing the TV work where people see a different side to me. I want people to see me on TV shows talking about different things, normal things, because it's just me.

"In boxing I had a different personality for sure. I had to put that aggressive face on, I had to be disrespectful but really, away from all that, I'm a normal family man."

Now the gloves have been hung up for good, Khan is in a position, both financially and in terms of time, to enjoy life.

Having fought so hard to be a success in boxing, he feels it's no more than he deserves.

"What drives that fight in me? I never want to be poor, I never want to have problems financially and that's been my drive after I won the world titles," Khan admits. "Before I won the world titles, it was about being a name in the UK and showing people how good a fighter you are, but after that was done it was about financially securing me for the rest of my life.

"I've seen too many fighters, and sat with too many fighters, where they've told me the same story about how they've gone broke and they've been ripped off. Mike Tyson and Roy Jones, I've sat with them and they've told me stories. I never want to be in that position ever.

"We're prize fighters and I've worked so hard that now it's time to relax and enjoy my life. People might think you're showing off but they don't know the blood, sweat and tears I went through, they don't know the pain I went through. They don't know the problems in general life I went through to get to this position because there are a lot of distractions. When you're a world champion people treat you like a celebrity, you are a celebrity, but I never let that distraction get to me. I stayed focused and now I'm in a position where I can retire."

Launched in August, the first series of RAW: The Fight Within has featured interviews with many stars from across the boxing industry, including Conor Benn, Darren Barker, Sunny Edwards, Ebanie Bridges, Dave Coldwell and Fabio Wardley.

Raw: The Fight Within is available to download via Apple, Spotify, Amazon, Google, Podbean, Pod.co, Acast, Listen Notes, Podbay FM, Audible, Deezer, Podchaser, iHeart and Player FM.

It will also be accessible via iFL TV's YouTube channel.

The latest episode, with Khan, is out now.
Please follow and like us: